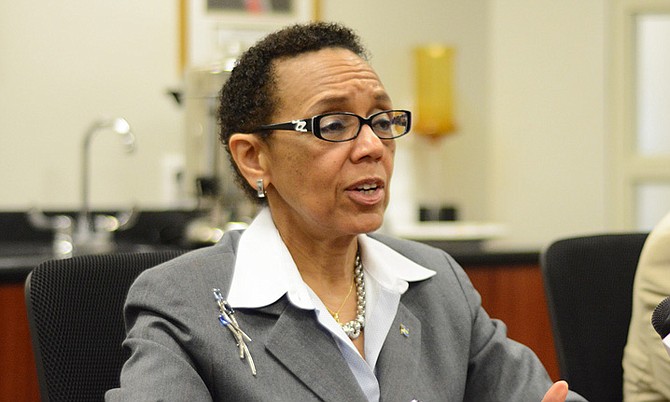 NASSAU, The Bahamas – The proposed Compendium of Intellectual Property Legislation allows Bahamians to "create" wealth by protecting their ideas so that they can commercially develop their innovations, said the Attorney General and Minister of Legal Affairs the Hon. Allyson Maynard-Gibson in her contribution to the Senate on Wednesday, September 16.
The Attorney General said the goal of economic growth is to increase the productive capacity of various sectors in the economy. "The existing sectors must constantly be bolstered in order to sustain competitiveness with countries that produce similar or like products. However, there is also the policy goal of expanding our economic offerings through innovation and the use of new technologies."
According to the Attorney General, trends indicate that many countries that have become globally competitive over the past decade have modern systems of intellectual property. She cited Switzerland, known as the "most competitive" country in the world since 2009 whose "consistent dominance is almost directly attributed to their dedication to protection, promotion and institutional management of intellectual property". For example, she said, the global competitiveness index (GCI) 2015 reports that Singapore is ranked 2nd in the world in terms of competitiveness; and the global competitiveness index (GCI) 2015 also confirms that they too have had significant drive towards the innovation in the field of education and business innovation.
The GCI is premised on twelve pillars:
1. Institutions (factor driven)
2. Infrastructure (factor driven)
3. Macroeconomic environment (factor driven)
4. Health and primary education (factor driven)
5. Higher education and training (efficiency driven)
6. Goods market efficiency (efficiency driven)
7. Labour market efficiency (efficiency driven)
8. Financial market development (efficiency driven)
9. Technological readiness (efficiency driven)
10. Market size (efficiency driven)
11. Business sophistication (innovation driven)
12. Innovation (innovation driven)
"These are the yardsticks by which The Bahamas will be measured. Every Elementary school child should know them. We must understand yardsticks in the competitive world," she said.
The Attorney General said the passing of the compendium of the legislation propels the Commonwealth of The Bahamas forward in all twelve pillars, specifically in those pillars that are innovation driven.
"When we talk about competitiveness we also refer to the country's ability to attract and sustain foreign investment. We are Madam President a net exporter of services. We primarily provide tourism, financial, maritime and maritime related services. Our industries require innovations in processes and technology to remain competitive. Some of that innovation will come directly from an increase in foreign investment in existing industries. This foreign investment it is envisioned will bring new technology, know how, and processes that would inspire further innovations that may be specific to our commonwealth. We need to encourage Bahamian innovation, and we need to ensure that those innovations which may find their genesis in Bahamian innovation are protected," she added.