U.S. Chargé d'Afffaires and Prime Minister Christie Address Official Opening of Autism Conference Focused on Early Detection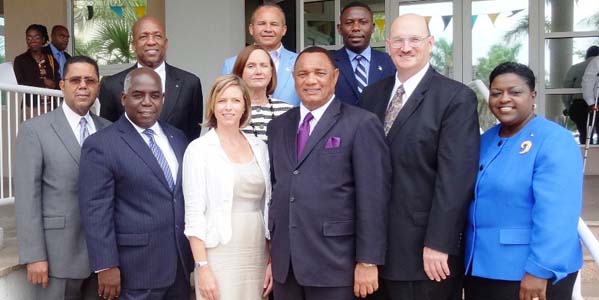 Children and challenged families facing Autism in the Bahamas need our help
Nassau, Bahamas – On Wednesday, September 11, the United States Embassy held the official opening of a three-day conference on "Autism – Promoting Inclusion, Advocacy and Early Detection" at The College of The Bahamas' Harry C. Moore Library. On hand for the event, U.S. Chargé d'Affaires John Dinkelman, Prime Minister of The Bahamas, The Rt. Hon. Perry Christie, Deputy Prime Minister Philip Davis, Minister of Social Services, Melanie Griffin, Minister of Health, Dr. Perry Gomez, College of The Bahamas President Dr. Betsy Vogel-Boze along with other senior U.S. and Bahamian government officials and the U.S. Embassy's invited speaker, Dr. Valerie Karr, Ph.D., an expert on autism detection and early intervention strategies.
The three-day conference includes workshops for public and private school teachers who have limited, if any special education training.  Dr. Karr will also meet with local psychologists and therapists; officials from the Ministry of Education, Science and Technology and the Ministry of Social Services; and education professors and students from the College of The Bahamas.
Although there are no figures on the number of people affected by autism in The Bahamas, experts believe that the prevalence rates mirror the United States with approximately 1 in 88 American children on the autism spectrum.  In his remarks, Chargé Dinkelman highlighted that the Embassy's support of conference came to fruition after Prime Minister Christie expressed his desire to address the issue of autism – especially with a focus on training teachers and care-givers. The goal is to help Bahamian teachers, social workers and therapists recognize the early signs of autism and to provide an overview of basic early intervention activities that could potentially be incorporated into a school's curriculum.
The Chargé expressed his efforts to support the enhanced capability of Bahamian parents and teachers to meet the needs of children impacted by autism.  He added that importance of information sharing and experiences to address the disorder.
"This conference is not meant to be a one-stop effort at addressing the myriad of issues related to autism, but rather to be another step in the ongoing effort to promote autism awareness in homes, school, medical offices and among the general population".
The goal of the three-day autism seminar is to help raise awareness about the early signs, needs and treatment options of children with developmental delays among teachers, counselors and social workers, and to encourage support services for Bahamian families affected by autism.