The Great Champion and Fighter for Bains and Grants Town is headed back to the Capital and will return to work this coming week! Hallelujah!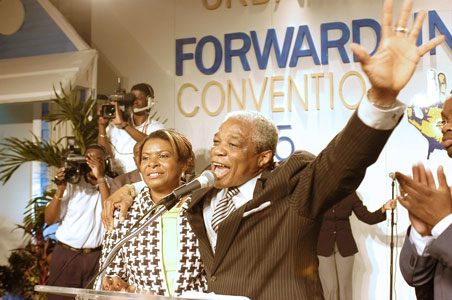 B J and Portia is headed back HOME!!
Nassau, Bahamas — Breaking News – With much prayers and expectation Bahamas Press is praising da LORD for the great return of the Minister for National Security Dr. B. J. Nottage.
Dr. Nottage was seen smiling broadly as he left Cleveland Hospital today. The MP signaled his readiness to return back to work to continue his aggressive push forward to restore progress and opportunity to the people of his constituency and by extension across the Bahamas.
The Bains and Grants Town MP is expected back to the Capital over the weekend and could return back to work in the Churchill Monday Morning – GOD IS GREAT!!!!!
Charitable Prayers and wonderful support has delivered us our GREAT CHAMPION and FIGHTER!!!! BJ IS BACK! Hallelujah!!!!!!!
B. J could He could be dropping licks on the Parliament floor by its next sitting- Isn't GOD GREAT!!!!???
We report yinner decide!