More trouble ahead as Bahamar goes after China Construction in the UK!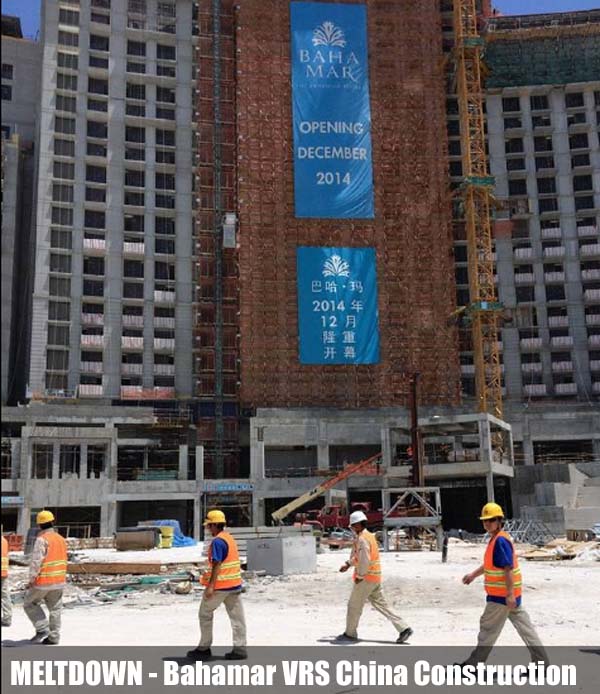 Nassau, Bahamas — Just one day after filing for bankruptcy protection, the developer behind the troubled Baha Mar Resort & Casino has filed a civil suit against the Chinese parent company of its main contractor.
On Monday, Baha Mar Ltd. filed for Chapter 11 protection in Delaware bankruptcy court, citing debts related to its stalled $3.5b Baha Mar resort in the Bahamas. Baha Mar Ltd. said the voluntary bankruptcy was the result of "financial consequences of the repeated delays" by the general contractor, CCA (Bahamas) Ltd., a subsidiary of Chinese state-owned firm China Construction America.
Baha Mar's suit, which was filed in the English High Court, accuses CCA's parent China State Construction Engineering Corp of failing to meet stated guarantees and performance obligations. Both developer and contractor have publicly blamed each other as responsible for the project's repeated delays, which have raised concerns about the viability of the venture. Baha Mar Ltd.'s lawsuit seeks various financial remedies from CCA.
Baha Mar also says it has been unable to convince its primary lender, Export-Import Bank of China, to provide the additional funding needed to see the project through to completion. The bank rode to Baha Mar's rescue in 2010, agreeing to provide capital totaling nearly $2.5b after the project stalled following the 2008 global economic slowdown. But Baha Mar says the bank is refusing to release the final $112m of this guarantee.
On Tuesday, Bahamas Prime Minister Perry Christie expressed confidence that the troubled resort "will not only open soon but will fulfill its promise as an important new dimension in Bahamian and regional tourism." Christie said his government would "not be taking anyone's side" in the dispute but would "at all times continue to optimize its value as a mediator between the parties."
In the bankruptcy filing, Baha Mar Ltd. CEO Sarkis Izmirlian said he would finance an $80m debtor-in-possession facility that would help the property meet its interim payroll requirements, but employees appear far more pessimistic. The Nassau Guardian quoted some staffers saying they were convinced their next paycheck would likely be their last.