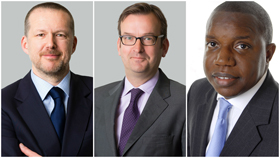 Edmund Rahming of KryS Global and Alastair Beveridge and Nick Cropper of AlixPartners, collectively the Joint Provisional Liquidators (JPLs) to the BahaMar resort development, this week held constructive all party talks with the development's key stakeholder groups.
Chaired by the JPLs today's talks brought together representatives from the Government of the Commonwealth of the Bahamas , financial sponsors Export-Import Bank of China, construction company CCA Bahamas Ltd. and parent company, China State Construction Engineering Corp. Ltd., and the resort's founder and Investor, Mr. Sarkis Izmirlian.
Commenting on this week's talks on behalf of the JPL's Alastair Beveridge said:
"The talks this week are another important step on the road to resolution. We would like to thank all parties for their good faith participation in and constructive approach during the meetings. Whilst there is still work to be done, it is clear that all involved arefocused on quickly reaching a viable solution to ensure that the Baha Mar resort is able to open for business for the benefit of all stakeholders, including the Bahamian people. We will continue to work with all stakeholders as we explore the best route forward and will issue further updates as talks continue".