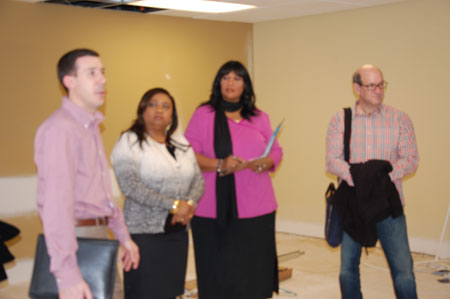 WASHINGTON, D.C. – Renovations have almost been completed on the new offices of the Bahamas Consulate at 1025 Vermont Avenue, N.W., and the Hon. Paulette Zonicle, Bahamas Consul General to Washington, D.C., said today (Friday, February 21) that she and her staff plan to move into the Consular Annex of the Embassy of The Bahamas in the next two weeks.
The Consul General and her staff have been using offices at the Bahamas Embassy, 2220 Massachusetts Aveniue, N.W., but policies of the U.S. State Department dictate that diplomatic activities of the Embassy and activities of the Consulate must be conducted separately.
Consul General Zonicle and members of her staff were taken on a tour of the new offices this morning and she was very pleased with the work that has been done to transform what was once open space on the third floor of the downtown Washington office complex into a suite of offices.
"The architects and the construction crew have done an excellent job," Consul General Zonicle said. "Once the carpeting and final touches on the walls have been completed, we expect to take possession next Friday, February 28, and move in that."