DLA heads to the Supreme Court!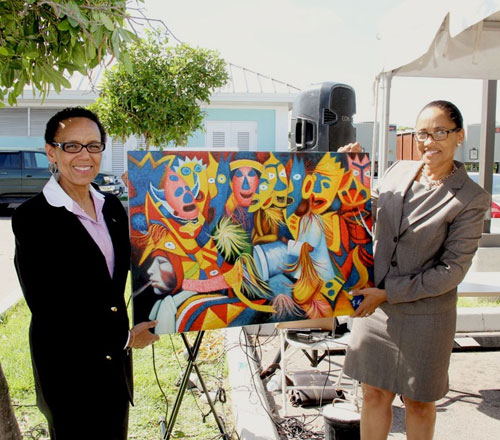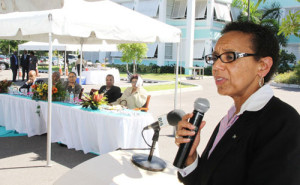 NASSAU, The Bahamas – Staff of the Office of the Attorney General and Ministry of Legal Affairs said farewell to Deborah Fraser, Director of Legal Affairs, during an appreciation lunc
heon, October 9, at the Paul L. Adderley Building. She leaves her former position to become a Justice of the Supreme Court.
Mrs. Fraser was called to the Bahamas Bar in 1987 and later appointed Assistant Counsel in the Office of the Attorney General. Throughout her career she served as Senior Counsel, Assistant Director and Deputy Director of Legal Affairs. She was appointed Director of Legal Affairs in 2005.
Family and friends were present as colleagues extolled her virtues. She was celebrated for her leadership abilities, professionalism, vision, pleasant disposition and compassion among others. Mrs. Fraser was also showered with gifts of appreciation.
Attorney General and Minister of Legal Affairs, the Hon. Allyson Maynard Gibson, described Mrs. Fraser as a rare gem, a woman of nobility,a true patriot andnot just brains and beauty.
Mrs. Maynard Gibson said Mrs. Fraser has given loyal, stellar public service for 27 years and is held in high esteem both internationally and by all of the attorneys general under whom she has served.
"She is someone whom the government depends upon for sound, legal advice to put the government in the right direction," said the Attorney General.
"We know and claim that you will be extraordinarily successful on the bench," she added.
Michael Fernander, friend and former colleague praised Mrs. Fraser with a rendition of the song "Here's to the Lady."
Supreme Court Justice Bernard Turner, a life-long friend, remarked that Mrs. Fraser is about to ascend to a position that is an example of what hard work, dedication and faithfulness to one's task can achieve. He said no doubt she will continue to "faithfully" serve the Bahamian people.
Antoinette Bonamy, Deputy Director of Legal Affairs, said Mrs. Fraser demonstrated early in her career that not only was she a savvy advocate and attorney, but a serious diplomat. "Your professional expertise, your mentorship, your guidance and your legal acumen are valued."
Mrs. Fraser fell in love with the idea of public service and nation building during her studies in Jamaica, and her desire to serve has always been a priority.
"Every morning I ask the Lord to continue to preserve me so I can come and give the service that I so love to give to my country," said Mrs. Fraser.
As she thanked her family and colleagues for their support throughout the years, she urged them to continue to serve and give their best to country.