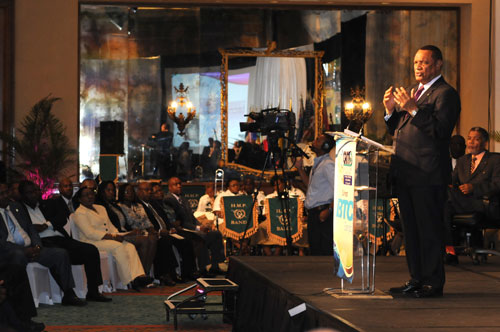 Nassau, Bahamas – The Bahamas is once again the majority owner of the Bahamas Telecommunications Company. Prime Minister the Rt. Hon. Perry G. Christie made the announcement while delivering the keynote address at 30th Annual CANTO (Caribbean Association of National Telecommunications Organizations) Conference & Trade Show, which was held at Atlantis, Paradise Island, on Sunday, 10th August, 2014.
"The Bahamas has been experiencing an interesting period of evolutionary activity in communications. We have privatized our former telecommunications incumbent, BTC; renegotiated the partnership agreement with the majority stakeholder in the BTC so that majority ownership is restored to the Bahamian people; updated our electronic communications sector policy; and positioned our resources to launch the process in short order for the award of a second cellular license in the Bahamian mobile market," said Mr. Christie.
Prime Minister Christie said that on April 6th 2011, Cable & Wireless Communications (CWC) acquired 51% of the shares of BTC for a Cash Consideration of $204 Million. Since then, with the installation of a new government in 2012, Mr. Christie said the terms of the original agreement with CWC were renegotiated.
The negotiations with CWC took place within a cooperative framework and produced satisfactory outcomes for both CWC and the Government," said Mr. Christie. "This, notwithstanding all the ill-informed and speculative talk you may or may not have heard such as, that this was a 'Face saving deal,' or that an extension to the 'exclusivity period' was tied to this. Such comments were and remain utter nonsense."
The Prime Minister said that of greater significance is the fact that a Committee — Chaired by Mr. Franklyn Wilson, renowned businessman, accountant and former Member of Parliament; Mr. Sean McWeeney, a Queen's Counsel and former Attorney General; Mrs. Rowena Bethel, a senior barrister-at-law and former regulatory consultant advisor to the Office of the Prime Minister and UN expert in eGovernment; and Mr. Leon Williams, a renowned regional expert in telecommunications — were 'successful' in negotiating an ownership transfer of 2% of the Shares in BTC, which were owned by CWC, to a Foundation setup by the Government of The Bahamas.
"I can give absolute assurance that the transfer of 2% of the Shares of BTC to the Trust Foundation has no such conditions. The Share transfer stands alone," he said. "It is indeed, therefore, my pleasure to report to you that the People of The Bahamas now have 51% ownership of the Economic Value of BTC. This makes the People of The Bahamas the economic majority owner of BTC."
CANTO was formed in 1984 to shape the future of the information and telecommunications sector as well as to facilitate the development of Information and Communication Technologies (ICT) solutions for the benefit of its members, policy makers, and the Caribbean region. Today, CANTO boasts a membership of 140 companies representing 34 countries.