Artists will advance onto the May 8th Finals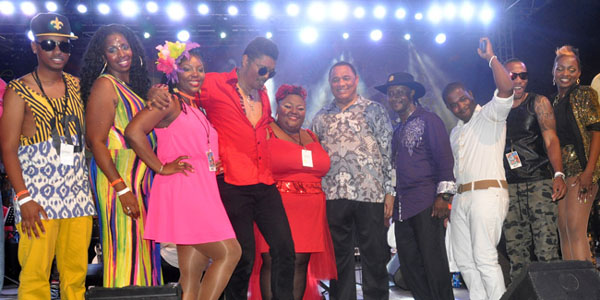 By Inderia Saunder, Bahamas Junkanoo Carnival
FREEPORT, Bahamas — Nine semi-finalists with ten songs will move on to the final round of Bahamas Junkanoo Carnival's first Music Masters competition to vie for the $20,000 grand prize on May 8th,, 2015 in Nassau, Bahamas
The first round of competition was held on April 17th and the second on April 18th in Freeport, Grand Bahama. The semifinalists are: Colyn McDonald- Carnival Is Here & Jump and Carry On, Ericka 'Lady E' Symonette – My Islands in the Sun, Sammi Starr – Everybody Jump in Da Line, Chris 'Sketch' Carey – Rushing Down the Road, Sonovia Pierre – Junkanoo Carnival Party, Bodine Johnson – All day All Night, Georgina Ward-Rigby – In the Carnival, Ian McQuay – Going Home, and Tyrone 'Plati' Dread – Junkanoo Rock.
The finalists — who were chosen from a total of 17 artists — will perform their songs on the grand stage in the finale concert with performances by Grammy Award winning Baha Men and Trinidad's soca king Machel Montano.
"We are proud to provide these talented Bahamian artists with a platform such as the Music Masters competition," said Roscoe Dames, CEO, Bahamas National Festival Commission. "Our goal is to celebrate the talent we have in our country's music industry and showcase this to the world.
"These are the nation's next wave of cultural ambassadors who will lead the revitalization of the music industry with their energy, passion and talent."
The finalists were narrowed down from a total of 17 on the Grand Life stage in Grand Bahama over the weekend. They battled it out in front of a live audience, performing the songs from the 25-song Junkanoo Carnival compilation CD "Jump In Da Line."
The competition also included performances by semi-finalists Angelique Sabrina, Terrelle Tynes-Wilson, Khiara Sherman, Val "Sugar" Richards, Raymond Campbell, Raj Saunders and Dwayne Simmons.
Dames thanked all the contestants for their participation in the historical competition and invited everyone out to watch the finals during the official Bahamas Junkanoo Carnival week of events.