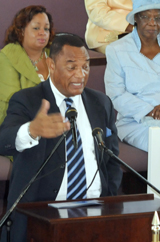 NASSAU, Bahamas — Prime Minister the Rt. Hon. Perry Gladstone Christie said the Government has launched a police-led programme that will "blanket" communities where people are undergoing many challenges.
Speaking at the 21st Pastoral Anniversary of Apostle Mitchell E. Jones and Mrs. Julia Jones at the Annex Baptist Cathedral, Sunday, June 10, 2012, Prime Minister Christie said although there may be some initial controversy, there is a reason why the police is spearheading the programme.
"It is intended to have police officers, social workers and environmental health workers decentralised, and have offices in these different communities with the direct mission to go to every house, every street, every corner, all through these communities and find out what happens in those homes," he said.
"We are going to know who live in those houses and we are going to know what their challenges are."
Prime Minister Christie explained that the information gathered will be fed into police intelligence and the police will be able to create strategies that are relevant to the various communities.
He also brought a similar message at an earlier service celebrating the 10th Anniversary Service of New Destiny Baptist Cathedral.
During both services, the Prime Minister said the public and especially churches need to be actively involved in order for community programmes to work.
"We live in troubling times and we have to come to grips with the reality that the citizens of this country must take special responsibility for helping us to get out of this, because it is to do with the young people in our country in particular," Prime Minister Christie said.
"Even though we see good examples of youths in the church, there are some who are so desperately threatened by the circumstances that they live under."
Therefore, he admonished the church community to create and support outreach ministries.
The Minister of Agriculture, Marine Resources and Local Government the Hon. V. Alfred Gray; Minister of Labour and National Insurance the Hon. Shane Gibson; Minister of Education, Science and Technology the Hon. Jerome Fitzgerald; and Senator the Hon. Heather Hunt also attended the church services with the Prime Minister.
Chairman of the Free National Movement and former Minister of Youth, Sports and Culture Charles Maynard attended the Annex service.