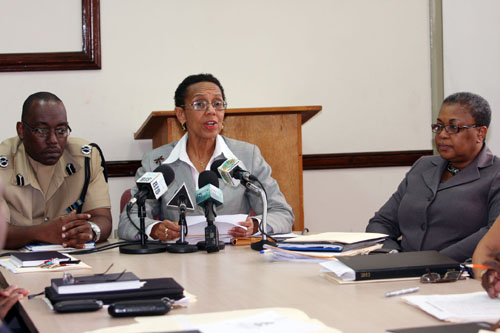 Nassau, The Bahamas – The Bahamas Government, through the reintroduction of the Swift Justice Initiative, is enforcing its mandate to wage war on crime and social issues.
Beginning with some 80 cases, Attorney General and Minister of Legal Affairs Senator the Hon. Allyson Maynard Gibson said Swift Justice, also known as Integrated Justice, facilitates collaboration between the institutions and agencies within the justice system.
Among the stakeholders present at the briefing to launch the reintroduction of the programme were representatives of the police, the courts, the prison, the Attorney General's Office and social services. Family victims have also been invited to sit on the advisory committee for Swift Justice.
"Swift Justice is a criteria for continued and sustained growth and development," said the Attorney General. "It is a principle that is as old as mankind. The consequence of the ineffective delivery of justice is increased crime."
"We cannot afford to allow a perception to take root that the justice system can be easily undermined. The Bahamas is our country and we are all responsible for protecting and preserving our legacy."
In keeping with the Initiative the Government commits to the following among others:
*Having all murder cases committed since May, 2012 tried within a year of the commission of the offence
*Having persons who attack a member of a disciplined force, a judicial officer or any other person involved in the administration of justice tried within six months of the commission of the offence
*Concentrating on the effective management of serious cases (especially murder) from the investigative stage
*Reviewing existing murder cases to determine those that are heinous in nature and warrant the death penalty. Such cases will be dealt with expeditiously at every level in the courts.
*Implementing the integrated justice system to establish automation and connectivity of all the stakeholders in the criminal justice system.
*Providing the means by which we can advise victims when accused have been released on bail.