We have a great future in Shaunae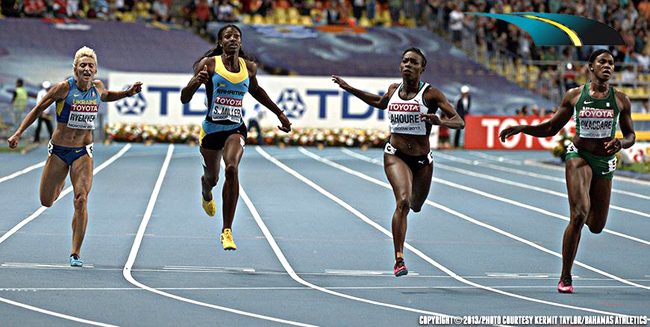 MOSCOW, Russia – Tonight in the finals of the women's 200m, Shaunae proved she can run with the best of them. Miller ran out of lane 7 and in the company of the best the world has to offer in Women sprinters, ChaRonda Williams in lane 2, Allyson Felix lane 3, Jamaican Track Star Shelly-Ann Fraser-Pryce lane 4, Blessing Okagbare lane 5, Murielle Ahoue lane 6 and Mariya Ryemyen in lane 8.
Shaunae also has the fastest reaction time to the starter gun 0.146 seconds. Once the gun went off, all eight ladies was out to prove who is the best in the 200m for 2013. At the top of the bend, Allyson Felix went down to what seemed to be a hamstring injury; we pray a full recovery for her. Once the runners came off the curve, Shelly-Ann Fraser-Pryce took control of the race, Shaunae had to turn on the "after burners" to secure her 4th place finish.
I know we all know this, but this young lady really has a bright future in track and field. She is truly a great Bahamian and Ambassador for our Country.
THANK YOU SHAUNAE!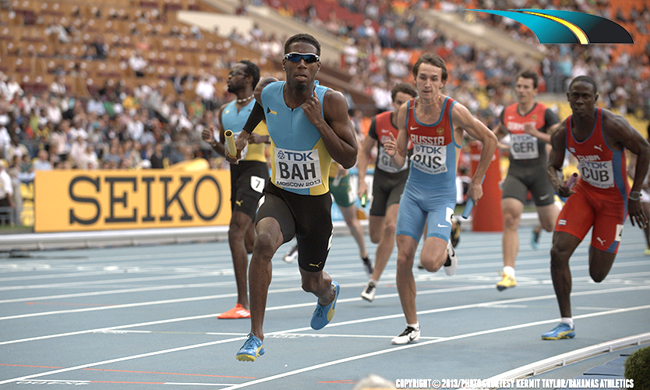 Tough Break for Bahamas' 4 X400m Relay Team
MOSCOW, Russia- Before the men's 4 X400m relay team took to the track, I believe a number of Bahamians had a great feeling of anticipation and questioned if this would be a repeat of the Gold Medal performance at the 2013 London Olympics for our men's 400 meter relay team. We all knew Demetris Pinder was injured earlier in the year. In an interview with Ramon Miller before he departed for Moscow, Miller confirmed that Demetris felt his fitness level was not up to par and opted not to compete at the BAAA Nationals held in Freeport. With regards to Michael Mathieu, I am unable to confirm his position or why he is not at the 2013 IAAF Championships, after the recent relays, one thing that is certain is his presence was really missed! Regarding Ramon Miller, Team Bahamas' physician – Dr. Miller confirmed in an earlier interview that Ramon had a lingering/nagging injury. So with that "backdrop," Team Bahamas' line up looked like this – first leg/Chris Brown, second leg Wesley Neymour, third leg/LaToy Williams and the Final leg/O'jay Ferguson.
The first leg by Chris was run very well and his performance placed us in the top two on the second exchange. One thing is certain, the "Fire Man" always deliver when called on! For the second exchange, Wesley was seen trying to find his exchange zone while Chris was on the final stretch, thank God a line official quickly pointed him to his exchange zone/line. Next up was LaToy Williams who ran a powerful leg and put us back into the race and made the final exchange to O'jay in first place. O'jay is one of our younger 400 meter runners who really worked very hard to make this team. O'jay really ran a good 300 meters but was unable to hold the lead heading into the home stretch.
O'jay you did a great J-O-B for your first IAAF Championship and it was admirable you accepting a major role in anchoring our men's relay team. The Bahamas would finish 4th in our heat and 13th overall.