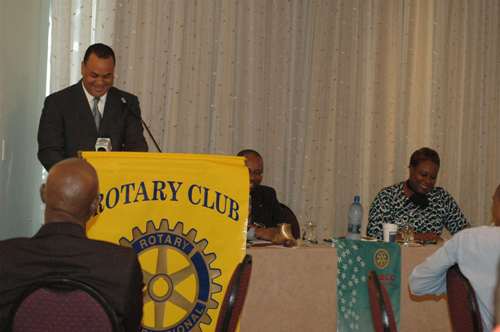 Nassau, The Bahamas — Simplifying government business through offering online payment services would enhance the ease of doing business in The Bahamas. By being competitive, being transparent, and being proficient, the Bahamas Government aims to attract investment by adding a modernized value to its global business outreach.
"Our value proposition must be competitive globally in order to spur economic growth locally. By making our information available and accessible, by modernizing processes, and having rules and regulations that are fair and apply to all, our customers can improve their productivity," said the Hon. Michael Halkitis, State Minister for Finance, while speaking to the Rotary Club at Sunrise, March 14.
Minister Halkitis told the Rotarians that transparency goes hand in hand with accountability and anti-corruption. He said to be the best at what you do, provide quality service delivery at a reduced cost and have a satisfied customer.
He said that Information and Communications Technology (ICT) has become the driving force behind productivity and economic growth for countries. That the OECD reported that ICT investments accounted for economic growth between 0.5 percent and 1.3 percent in GDP in a number of economies over the periods 1995 to 2000.
"ICT, through the advent of the Internet has provided a channel for customer self-service and has changed the way persons and businesses transact and interact," said Mr Halkitis.
"E-business, which is the use of ICT to improve productivity and growth, has been part of the private sector's business model for years. E-Government takes on the private sector's e-business model as a means of gaining this same productivity and growth. The E-Government model, however, is not only for the dissemination of information and provision for online transactions at a low cost but to open a new channel of communication and networking with businesses, citizens, and the world."
The Bahamas e-Government Portal Services is a government initiative aimed at making business with government easier by providing online access to a range of services. Mr Halkitis noted it is said that any government that fails to adopt the model will fail to realise their economic and productivity potential. He said the government of The Bahamas does not plan to fail, and has adopted and implemented its E-Government programme.
Mr Halkitis said that the Bahamas Government reached the UN classification of the third stage of Online Service Development, known as Transactional Presence, which means our portal offers two-way interactive communication, financial, and non-financial transactions. He said the Government then put some initiatives in place to achieve its objectives, such as a new E-Government portal, E-Commerce regulations that have been in place since 2002, ICT governance structure put in place, providing the means for participation and inclusion, and engaging in professional services to aid with promotion, awareness, and education programmes for E-Government.
"We have electronic authentication of citizens, residents, and non-residents for conducting electronic or online services. Putting services online reduces processing costs, reduces the number of inefficiencies attributed to manual processing, and streamlines the process," said Mr Halkitis.
"Today, individuals can pay their Real Property Tax, Driver's Licence, and Traffic Fines online. We have simplified the process and it will take only a few minutes to complete. The Portal also gives access to online services provided by the Registrar General's Department."
Mr Halkitis said the site received a 100 percent rating in the UN E-Government Survey 2012 for first stage web presence, "Emerging Information Services". He said that is because the portal offers access to over 300 forms and services, gives access to Laws and Acts, and notices on tenders and government initiatives.
"The Bahamas Information Services provides up-to-date News and Press Releases, and hundreds of publications, such as the Constitution are available. There is useful data about the government, history, historical sites, and national symbols. Businesses have a portal dedicated to themselves with easy access to 'How Do I's…', FAQs, permits and licenses," said Mr Halkitis.
"Citizens can learn about the services offered by the Department of Labour, Department of Social Services, Department of Health, and a number of other agencies. Persons wishing to visit can explore The Bahamas by clicking through areas like 'Places of Interest', 'Culture', and provides information on what they need to know when planning a trip to The Bahamas. The portal offers a secure payment gateway to facilitate online monetary transactions. Realising the apprehension customers would have regarding security online, the government implemented measures that are best in practice for secure transactions."
Mr Halkitis said Government plans to re-engineer their online services to improve efficiency. He said The Bahamas was recently ranked number 77 in the "2013 Ease of Doing Business Report", out of some 185 nations. He said this can be attributed to the fact that other countries have made improvements and we have not.
Mr Halkitis also said that they will have regular forums and engage in focus groups to ensure inclusivity and participation in the decision making process. He said the Government will launch its Facebook page to nurture community building and networking and he encouraged people to join and like the page. He said the Government plans to increase the number of online services and provide 24 hour access and availability to services, allowing fast and convenient transaction processing. He also added that they will bump up their ICT awareness and education programme, as well as improve our international rankings in responding to surveys and reporting improvements in the international arena.
Mr Halkitis said the government's portal can be found at www.bahamas.gov.bs for online access to Government Agencies, the latest news and events, Government contact information, over 300 forms you can download or fill out online, pay for services online, quickly pay fees and fines, and find job availabilities.