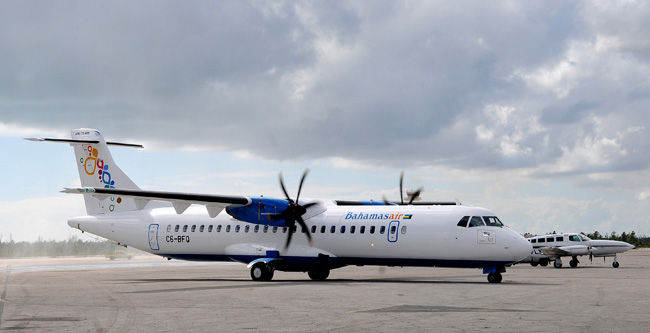 The Board of Directors and Management of Bahamasair are excited to announce that the airline has welcomed its second new turbo prop, as a part of the company's re-fleeting exercise. The arrival of the second brand new ATR 72-600 on Saturday March 12th marks the delivery of the last of the two larger, 70 seat aircraft.
The aircraft was blessed by Canon Warren Rolle on Monday the 14th and will enter into service over the next several days.
The remaining three planes will be the ATR 42-600 model which boasts a 50 seat configuration. The company has already seen the benefit of having the larger aircraft on our heavier routes, specifically Freeport, Marsh Harbour, West Palm Beach and Ft. Lauderdale. Currently the loads exceed the 50 seats available on the Dash 8; however, with the new ATR 72 servicing these routes we have been able to not only consistently exceed fifty seats, but in most instances are at the maximum capacity of 70 seats. The newest addition to Bahamasair's fleet was ferried to New Providence from France by an exceptional flight crew, led by Captain Lemuel Ferguson (Bahamasair) and First Officer Franklyn Cambridge (Bahamasair) supervsied by Captain William Remande from ATR France.
Captain Remande will remain in the Bahamas for a month as a part of ATRs training commitment to Bahamasair, this in addition to their agreement to place a new training simulator in South Florida only strengthens our resolve on the decision to transition to ATR. Captain Ferguson and First Officer Franklyn Cambridge follow in the footsteps of Captain Shannon Galanis and First Officer Cameron Pratt who led the way by ferrying the first ATR 72 across the Atlantic and home to the Bahamas.
The remaining three aircraft will be delivered in time for the summer peak season.