Bahamas Red Cross Society Says 'Thank You'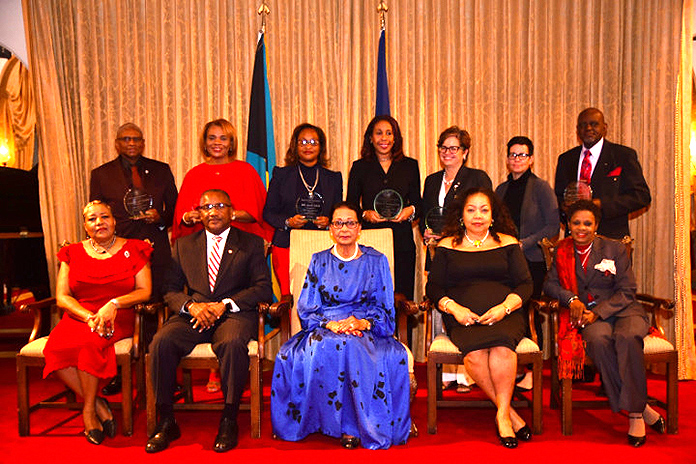 Nassau, Bahamas – Longtime supporters and benefactors of the Bahamas Red Cross Society were recognized during the annual Platinum Sponsor Reception & Corporate Awards Ceremony recently held at Government House, Mount Fitzwilliam.
Under the auspices of Her Excellency, Dame Marguerite Pindling, GCMG, Governor-General of the Commonwealth of The Bahamas, nine businesses were thanked for their generosity to the Society. The event also provided an intimate setting for platinum sponsors of the upcoming 46th Annual Red Cross Ball to mix and mingle.
"We are immensely indebted to the many organizations and corporate bodies that, year after year, continuously give towards ensuring that the initiatives spearheaded by the Bahamas Red Cross are sustained," said Caroline Turnquest, Director General of the Bahamas Red Cross Society. "One of the Seven Fundamental Principles of the Red Cross is humanity – 'to bring assistance without discrimination, to prevent and alleviate human suffering wherever it may be found'. I can say today, that all of these awardees have demonstrated what that sentiment means and for that we are grateful."
Awardees included AML Foods Ltd, Coin of the Realm, Hands for Hunger, J. P. Investments Co. Ltd., Nassau Glass, Robinson Video & Limousine, The Brass & Leather Shop Ltd., The Counsellors Ltd., & Water & Sewerage Corporation.
Entertainment for the evening was provided by the Royal Bahamas Defence Force Band and a performance by a group from the Junior Red Cross Links program.
The Ball will be held Saturday, January 27, 2018 at 7pm at the Baha Mar Convention Centre, Cable Beach. Tickets for this black-tie event are $275. Those wishing to purchase platinum, gold or general tables, may contact the Bahamas Red Cross Society on JFK Drive at 323-7370/328-4415.