By Oswald Brown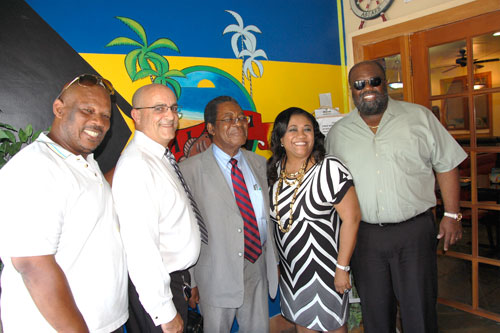 Miami, Florida – During their official visit to the Bahamas Consulate General Office in Miami last week, His Excellency Dr. Eugene Newry, Bahamas Ambassador-Designate to the United States, and the Hon. Paulette Zonicle, Bahamas Consul General to Washington, D.C., along with Consul General to Miami the Hon. H. Ricardo Treco and Deputy Consul General Sandra Carey were taken on a tour of Miami by Andrew A. Ingraham, President/CEO of the National Association of Black Hotel Owners, Operators & Developers (NABHOOD).
They had lunch at the City Hall restaurant. Also attending the luncheon was Mr. Cornelius Shiver, Chief of Staff for Commissioner Michelle Spence-Jones (District 5).
Mr. Ingraham is a Bahamian, and the tour included a visit to the Bahamian Connection Grill, 4400 N.W. 2nd Avenue, owned by Mr. Ingraham's brother Philip. Pictured standing outside the Bahamian Connection Grill from left are: Consul General Zonicle; Andrew Ingraham; Council General Treco; Dr. Newry; Rudolph Greene, Consulate chauffeur; and Philip Ingraham.