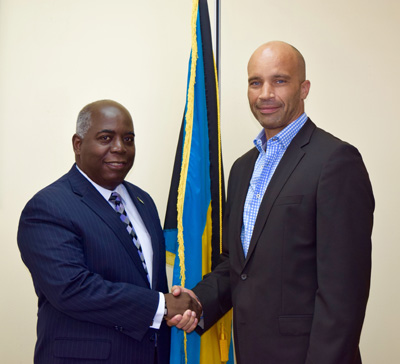 NASSAU, The Bahamas – ARISTO Development, a leading real estate development company, broke ground, July 7, on their $40 million ONE Cable Beach new luxury boutique residences and state-of-the-art, all new, curve construction design project on Cable Beach.
The 69-unit, master planned development has a 20-24-month timeframe for completion once construction begins, and anticipates "employing and investing in 200 Bahamians with good work ethic, qualified sub-contractors and other professionals related to the field over the life of the project."
"We are grateful for the efforts and dedication of all who supported this project and we look forward to being a part of the Bahamian works and urban community development for years to come," said Bahamian developer and real estate expert, Jason Kinsale, Principal of ARISTO Development.
"We are dedicated to enhancing the lives of Bahamian people through the production and success of our construction projects."
As Principal of Aristo Development Limited, Mr. Kinsale is responsible for overseeing the $40 million investment of ONE Cable Beach and sales of the 69 units in accordance with the company's strategic mission and plan. He will also play a leading role in maintaining its capital and strategic partnerships.
Kinsale has a distinguished track record in real estate, boasting more than 20 years' experience in residential, commercial, and multi-family developments in addition to a variety of large-scale land transactions.
Mr. Kinsale said ONE Cable Beach will be developed as a trophy asset for all to experience the passion and privacy it offers.
The revolutionary curve design, he continued, is modern-day influenced, and will be built "strong, luxurious and environmentally friendly.
"The all-new curve design attracts local and foreign high net-worth investors who want an increasing safe haven, ocean views, premiere living and exclusive conveniences," Mr. Kinsale added.
Mr. Kinsale was the founder and developer of Hampton Ridge and Balmoral residency projects. His forward vision for Bahamians is to provide upscale and masterfully planned, quality communities that are environmentally sustainable.