"Kevi Kev" McKenzie is also the brother of DMAC Mckenzie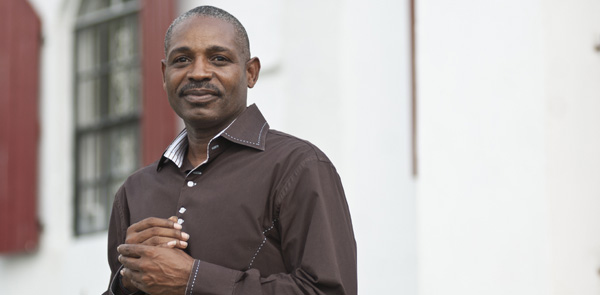 Nassau, Bahamas –– Bahamian Gospel Legend and Marlin Award winner Kevan "Kevi Kev" McKenzie passed away yesterday, Monday July 15th at 8:15pm at Doctors Hospital in Nassau, Bahamas with his family by his side. He was 51 years old.
Kevan had been diagnosed with colon cancer several years ago and fought vigorously against the disease. He was considered by many to be the pioneer of the modern Bahamian gospel sound, infusing the elements of Junkanoo and Rake & Scrape into a unique and fresh mix that no one had boldly captured before. He was also not afraid to challenge the mainstream concept of a song, of what people thought gospel music should sound like and he faced every recording and performance with courage and confidence, sprinkling his audience with seeds of faith, hope, love and joy.
Kevan's career in gospel music started as the lead singer for the Gospel Music Train who disbanded after ten (10) years together, providing the perfect platform for Kevan to launch his solo career. He recorded and released his debut album "In Love Again" in the late 1980's, injecting into to the mostly traditional gospel music scene at the time, a fresh and more contemporary approach to local gospel music. The album spawned several hit songs like "Better", "In Love Again", "Too Much Crime" and "Promised Land", which became one of his signature pieces and a concert favorite.
Over the years Kevan recorded along with his chart topping producer and brother Dillon "D-Mac" McKenzie, a number of songs that captured the heart of the nation and the number one rotation spot on local radio stations. Some of these songs comprised his second project entitled "Still Going".
In 2011 Kevan released his first double disc CD entitled "From My Heart to Yours-The Greatest Hits of Kevan "Kevi Kev" McKenzie", which featured many of his most popular songs including "Junkanoo is Mine", "Don't Complain" featuring Dynamite Daisy, "Sunday Christian", "Daddy's are Special Too, "J.O.Y Joy", "Too Much Sinning Bout De Place", "Be A Man" and "They Don't Know You Till Ya Dead". This specially packaged album was released during a special concert that was held in Kevan's honor, entitled "Come Together-A Tribute Concert In Honor of Bahamian Gospel Legend Kevan "Kevi Kev" McKenzie". The concert, which to date is considered the largest indoor gospel music concert in recent history,  was held on Friday October 14th 2011 at Bahamas Faith Ministries Diplomat Center.
Kevan was also involved in business, serving as the founder and president of "The Service Center" located on Solider Road and he was also the visionary and developer of the Hubert McKenzie Estates, located in Sea breeze and named after this father the Late Bishop Hubert McKenzie.
He won many awards throughout his career including several Caribbean Gospel Music Marlin Awards for his solo work and for his vocal contribution to several projects by Bahamian musician and producer Chris Fox. However one of Kevan's most treasured accomplishments by far was when he entered and won the Commonwealth Song Competition in the early nineties with an original composition called "Commonwealth Pie" which beat out many larger countries like Africa, Australia, India, New Zeeland and many others.
With a passion for his country in his heart, Kevan recorded and released a strong yet socially conscience single called "Leave the Boundary Lines" for the Save Our Bahamas Vote No campaign. The song was prominently used by the Vote No campaign in several of its promotional efforts during the recently held referendum on gambling in the Bahamas in January of 2013.
Kevan's most recent focus however was on developing the budding music careers of his two (2) youngest sons, Karrington and Antuwan, who collaborated vocally on two (2) remakes of their father's songs "Proud Lil Bahamians" and "Drivers Seat Remix", the latter of which was produced by Sammi Starr. Kevan was also working on a few new songs for himself as well as another greatest hits collection of his material.
Kevan was also just recently selected by the Real Men Ministries International Bahamas as one of forty (40) men to be honored during their upcoming 40th Anniversary National Men's Awards scheduled to be held on Friday August 2nd 2013 at the Diplomat Center. His son Karrington will perform a special tribute to his father.
He was a member of Bahamas Harvest Church and a member of the praise team where he led worship for several years under the leadership of Senior Pastors Mario and Erica Moxey.
Kevan leaves behind his wife Angela, his children Kevra, Ashton, Karrington and Antuwan, his sisters Laverne and Judith and his two (2) brothers Humphrey and Dillon, a granddaughter De'Ann Bostwick, his son in law Earl Bostwick as well as a number of family members and friends. Kevan also recently lost his mother, the late Mrs. Lydia McKenzie who passed away in April of this year.
Condolences and tributes are pouring in with many expressing sadness upon hearing about his passing. Kevan He was truly a kingdom and musical ambassador with a passion for excellence, touching many with his music, his generosity and his smile. He is considered by many as being "The Prince of Bahamian Gospel Music".
Funeral arrangements will be announced shortly.