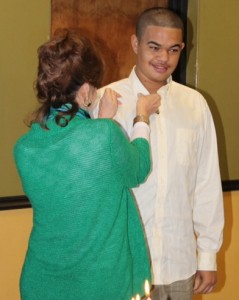 LAKE WALES, FLORIDA – It is the kind of honour that only a decade ago might have seemed unattainable – a student from The Bahamas with learning disabilities and special needs being admitted into the highest academic organization in high schools in the United States. But this month, a Bahamian with Asperger's – the high-performing form of autism — was inducted into the National Honor Society, receiving his coveted pin like hundreds of others across America who know that Honor Society status will serve them well for the rest of their lives, from opening doors at colleges to jumpstarting them in jobs.
Cole Carey, son of Mario and Venita Carey of Nassau and a student at the Vanguard School in Lake Wales, Florida, received his golden NHS pin from the Vanguard School president, Dr. Cathy Wooley-Brown, during a special ceremony during the school's annual family weekend in mid-February. Cole was one of two students honored, the other recipient's family requesting anonymity.
"We're very proud of both of these students," Wooley-Brown said. "Both of them have worked so hard and come so far during their time at Vanguard, and these (honours) are richly deserved."
For Mario Carey, who is also president of the autism support, education and advocacy organization R.E.A.C.H., seeing Cole on stage was emotionally overwhelming.
"Cole has matured so much with the small classes, special structure and individual attention at Vanguard. Although he was gifted with innate intelligence, it was hard for him to interact socially in a way that was acceptable. Children with autism, regardless of the spectrum, have extremely heightened senses, as if their hearing or vision were on overload causing them to shut down. Today, at 17, Cole is amazing, willing to work hard. He's goal-oriented and driven," said Carey. "Being present for the induction ceremony and seeing him stand there on the podium when they placed the pin on him was so emotional. I felt like I was going to burst I was so proud. And Cole was grinning from ear to ear."
The Vanguard School, an international college preparatory boarding and day school for students with mild to moderate learning differences, now has a group of 20 students who are among the honor society members. Vanguard opened in 1966 with six students and one small building. Today, the school with 150 students is sprawled across 76 acres and boasts a state-of-the-art media centre, library, cafeteria, gym and performing arts centre. Its growth mirrors the detection of autism which today is believed to affect as many as one in every 15 children born in The Bahamas. More prevalent in boys than girls, autism affects some 67 million people worldwide.