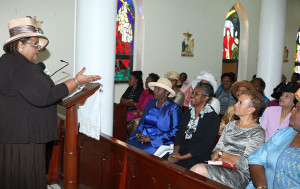 Nassau, The Bahamas – Minister of State in the Ministry of Labour and Social Development the Hon. Loretta Butler-Turner said Bahamian women have proven over the years that they do have the stamina to withstand challenges.
During the church service commencing National Women's Week at St George's Anglican Church on Sunday, Mrs Butler-Turner said women have also shown that they do have the perseverance to stay the course to achieve desired goals and have proven their ability to unite for a common cause.
All Bahamians should be extremely proud of the tremendous strides made by women since 1962, including the varied positions of power in the political, social and economic arenas that women have assumed, and the profound influence they have in shaping the modern Bahamas, she said.
The week coincides with the 48th anniversary of the empowerment of women to vote in The Bahamas. Many women, joined by their male counterparts, fought together to attain this right.
"There is however the need for wider participation and commitment if we are to meet the social and economic challenges that many of our women still face unfortunately," Mrs Butler-Turner said.
The theme for National Women's Week "Women and Power: For a World of Equality" is adopted from the Organisation of American States, which has been designated 2010 as the Inter-American Year of Women.
Attending the service officiated by Venerable G Kingsley Knowles, Archdeacon and Rector were Senator Jacinta Higgs; Gwen Knowles, Chairperson, National Women's Advisory Council and other members of the Council and other women's organisations.
National Women's Week also encompasses the International Day to End Violence Against Women on November 25, Mrs Butler-Turner pointed out.
"Sadly, in spite of our tireless efforts to educate and implement prevention strategies to decrease violence against women, it is still effecting far too many of our women and families."
Statistics show that up to 70 per cent of families are headed by women, and when violence affects women, it impacts the family, she said.
When it impacts women, it has a chain-reaction influence on the family, and what touches the family, then impacts the nation. That is something that must truly be examined, Mrs Butler-Turner said.
"While the Government and relevant agencies remain committed to ending this vicious scourge, it will take our collective efforts and commitment as a nation to this a reality in eradicating such violence," she said.
There will be a special showing of the movie "Rain", which was written and directed by a Bahamian, Ms Maria Govan at Galleria Cinema as part of National Women's Week.
There will also be a two-page supplement, which will give more insight into the theme, the work of the Bureau and highlights the achievements as well as the challenges of women.
Also planned are a number of radio shows that will feature discussions on women in politics, women in leadership, domestic violence, and the women's suffrage movement.