Hundreds remain unemployed under Minnis Government after firing over 5,016 according to records in the AG OFFICE!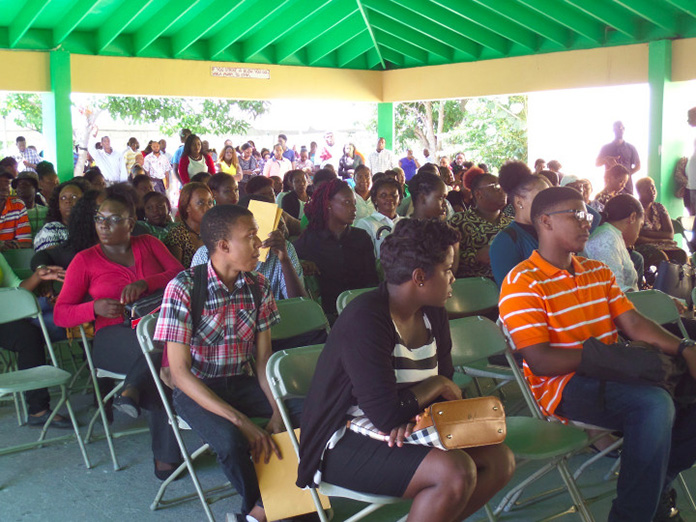 Nassau – After more than one year in and with over 5016 being fired within the first few months of the Minnis Government the WORST Minister for UNEMPLOYMENT Dion Foulkes is back with his "take people number" campaign.
The fact is government is not hiring but firing! Meanwhile still hundreds of eager Bahamians turned out on Saturday, September 22, 2018 for the Department of Labour's Eighth 'Labour on the Blocks' Job Fair at the C.V. Bethel High School on East Street South. The Job Fair started at 11:00 a.m. and concluded at 3:00 p.m.
During a press briefing the Minister of Labour, Senator the Hon. Dion A. Foulkes while flanked by senior officers of the Ministry and Department of Labour said, "We have so far processed 450 job seekers, and we did it all in about three to four hours."
Minister Foulkes said, "I would like to thank all of the employers that are here today. We have some 20 service establishments here today. For the first time we have the marine industry represented. We have Aquamarine and Campbell Shipping here today and I am very pleased that they have come out… The Prime Minister has directed that the Ministry of Labour and the Ministry of Education focus on the marine sciences and the marine opportunities, so we are very pleased."
Minister Foulkes pointed out that all of the businesses represented at the job fair had vacancies.
Bahamians forget how back n 2007-2012 Foulkes was branded by BP as the WORST MINISTER FOR LABOUR EVER! In fact this was the main reason for his inability to get elected to Parliament. Well if ya give him ya number let's just hope ya don't get a call to come to some hotel in the middle of the night!
We report yinner decide!