Cuba and Bahamas must work together to jointly to combat the abuse of Dominicans fishing in our waters!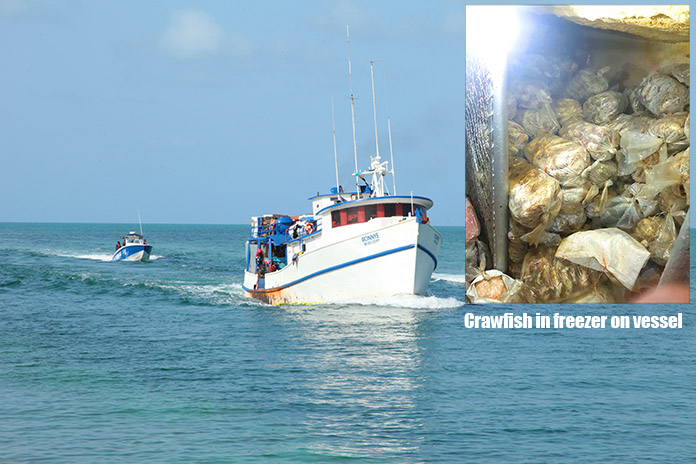 Nassau – Information concerning several vessels suspected of being Dominican poaching vessels that were sighted in Bahamian waters by a Bahamian passenger aboard a cruise ship in the Old Bahama Channel resulted in the apprehension of a 70-foot Dominican poaching vessel by the Royal Bahamas Defence Force early Sunday morning.
While on routine patrol in the southern Bahamas, HMBS Madeira, under the command of Senior Lieutenant William Sturrup, was directed to intercept several suspected Dominican fishing vessels in the Cay Lobos/Guinchos Cay area in the southern Bahamas on Saturday.
At approximately 12:30 a.m. Sunday morning, HMBS Madeira spotted several vessels east of Cay Lobos and proceeded to intercept. One was caught but two of them quickly fled into Cuban waters. Upon boarding the Fishing Vessel 'Ronnye', the boarding party discovered 46 Dominicans, along with a large quantity of fisheries products.
The Dominicans and their vessel were subsequently escorted to Coral Harbour Base where they, along with their fisheries products were handed over to Police and officials of the Marine Resources Unit and the Ministry of Finance. We wonder where all these good food does go?
HMBS Madeira was previously rammed by a Dominican fishing vessel trying to escape capture in 2016. During the incident, Madeira had apprehended two Dominican vessels in the southern Bahamas. Both captains and crews were charged before the courts and served jail time at the Bahamas Department of Correctional Services. The damage resulted in almost $260,000 dollars in damages.
In June of this year, an arrest was made by HMBS Durward Knowles of a Dominican poaching vessel with almost 9,000 pounds of fisheries products on board near the same area as a result of close collaboration by the Defence Force with the Bahamian fishing community.
During that incident, the Defence Force had also collaborated with the Cuban Border Guard informing them of several Dominican skiffs that fled into Cuban waters, as they normally do. Cuban authorities were therefore able to apprehend the skiffs with 10 Dominicans on board, who were subsequently prosecuted by Cuban authorities.
The Commander Defence Force, Commodore Tellis Bethel, expressed appreciation on behalf of the Defence Force and himself for the information received from the Bahamian cruise ship passenger. He also encouraged persons with information of suspicious activities to call the Defence Force hotline at 242-376-3816 as information released on social media could inadvertently alert criminals that their activities are known. Persons having knowledge of illicit activities in Bahamian waters are therefore encouraged to call the Defence Force's Tip Line at 242-376-3816.
This recent sighting by a Bahamian cruise ship passenger would not have been the first time such an incident occurred. Not long ago, a similar sighting was reported by another Bahamian passenger while on a cruise that was also passing through the Old Bahama Channel over a year ago.
During that incident, the Bahamian passenger contacted the Defence Force and reported that he had spotted a Dominican boat poaching in the area. The suspect vessel was intercepted by the Defence Force.
However, it turned out that the would-be poaching vessel, which looked like Dominican fishing vessel, was a Bahamian fishing vessel. Furthermore, unbeknown to the Bahamian passenger at the time, the suspicious vessel he reported was actually one of his fishing vessels.
In addition to patrolling the southern Bahamas, the Defence Force is also working closely with partner law enforcement agencies in Grand Bahama, Bimini, Exuma, and Abaco to prevent illegal fishing, as well as the smuggling of arms, undeclared goods and other contraband by locals and foreigners.