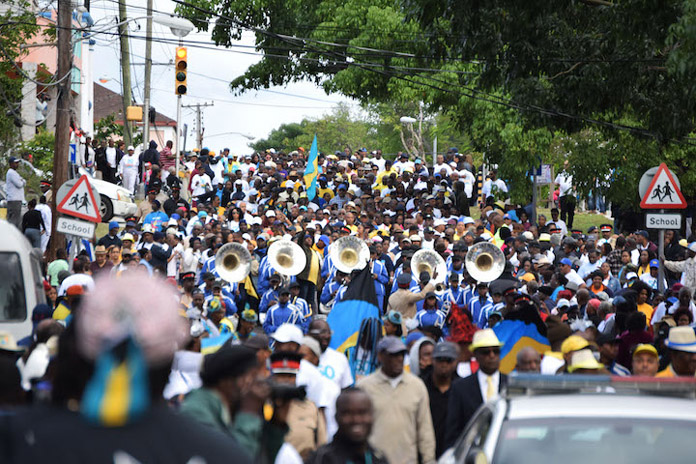 By Elcott Coleby
On Tuesday 10th January 2017, thousands of Bahamians marched in solidarity in a government sponsored march to commemorate 50 years of Majority Rule. The marchers literally traced the steps of giants such as Sir Lynden Pindling, Sir Milo Butler and Sir Cecil Wallace-Whitfield in the first march to celebrate this historic event.
The march commenced at Windsor Park at 7am, travelled north on East Street, west on Bay Street, south on Cumberland and Blue Hill and terminating on the Southern Recreation grounds where a ceremony and gospel concert took place.
Delivering the keynote address was Prime Minister the Rt. Hon. Perry G. Christie. He said that January 10th is a day on the National Calendar that belongs to all Bahamians, regardless of background, politics, race or social and economic status.
"January 10th must be commemorated and celebrated by all of us because it truly represents one of the great, defining moments in our evolution as a people," Prime Minister Christie.
He added that, with the exception of the Emancipation from slavery in 1834 and Independence in 1973, there is no event with more consequence and historical importance than the attainment of Majority Rule, which unfolded January 10, 1967.
"It is for us to know and to accept that January 10, 1967 represents the transition from the Old Bahamas to a New Bahamas — the point of transition from minority government to majority government; the point of transition to a modern democracy," Prime Minister Christie said.
He pointed out that the date was not an end, nor even a beginning.
"Instead it was an important milestone in a journey that was begun centuries ago when some anonymous slave struck a blow for freedom for the first time," Prime Minister Christie stated."It is a journey that continued with slaves like Pompey in Exuma and Black Dick in Cat Island who, with others in the early 1830s — against the most overwhelming odds — struck their blows for freedom and for justice."
The journey continued into the 20th century, Prime Minister Christie said, with men like W.P. Adderley, Etienne Dupuch, T.A. Toote, Gerald Cash, Leon Walton Young, C.R. Walker, Milo Boughton Butler, and others who, each in his own way, "struck a major blow for a better Bahamas."
He added that the journey continued with Clifford Darling and Clarence Bain; and with H.M. Taylor, Cyril Stevenson and William Cartwright, and, most pivotally of all, with Lynden Pindling, and "that mighty band of brothers and sisters" who joined with him to build a new Bahamas and a new Bahamian — upward-striving and free.
Prime Minister Christie also reflected on the contributions of persons like A. D. Hanna, Sir Cecil Wallace-Whitfield, Carlton Francis, Dame Doris Johnson, Sir Arthur Foulkes and Sir Clement T. Maynard, Paul Adderley, Sir Orville Turnquest, Sir Arlington Butler; Elwood Donaldson, Maurice Moore, and the men and women who played a part in building The Bahamas.
The day of celebrations culminated with a junkanoo rush out and fireworks display at Arawak Cay.
Crime down 26% says Police Commissioner
The message from Police Commissioner Ellison Greenslade was simple and succinct: The Bahamas experienced a 26 percent decrease in overall serious crimes for the year 2016 – the largest decrease in serious crime in 12 years — thanks in large part to double digit decreases in almost every category of crime.
Commissioner Greenslade delivered the announcement Wednesday, January 11, 2017 at his annual press conference at the Paul Farquharson Conference Center to report on the fight against crime during the previous year.
"I am satisfied that the majority of our officers are decent, upstanding, honest and industrious Bahamians who live out our motto of courage, integrity, and loyalty every day."
Mr. Greenslade reported that murders were down by 24 percent (111 were recorded in 2016, a decrease of 35 murders or 24 percent from the 146 that were recorded in 2015); Manslaughter was cut in half; Rape was down 18 per cent; Attempted Rape (6 per cent); Armed Robbery (19 per cent) and Robbery (13 per cent).
Crimes against property – burglary, house break-ins, shop break-ins etcetera – decreased by 29 per cent overall in 2016. He said the decreases in crimes against property and serious crimes were primarily due to the "tremendous support" from members of the general public
Burglary was down by 15 per cent; House Break-Ins down by 25 per cent; Shop Break-Ins (down by 9 per cent); Stealing (down by 13 per cent); Stealing from vehicles (down by 47 per cent) and Stolen Vehicles (down by 30 per cent).
"This overall decrease was influenced by double digit decreases in every category of crimes against property, except shop break-ins which comprised a single digit decrease of 9 per cent," Mr. Greenslade said.
Bahamas reaches "landmark and historic" agreement with the FAA
"These developments represent a significant achievement and advancement in the affairs of the Bahamian people with respect to the management of its sovereign airspace, which heretofore had not been accomplished by previous administrations."
So said Prime Minister and Minister of Finance the Rt. Hon. Perry Christie on January 11, 2017 at his office as he announced that the Government of The Bahamas had reached a "landmark and historic" agreement with the Federal Aviation Administration (FAA) of the United States of America, which among other developments will result in the exemption of Bahamian aircraft operators from payment of overflight fees to the FAA on flights which take off and land in The Bahamas.
"Under international laws and conventions, countries require airlines and other aircraft to pay a fee for the right to overfly their airspace. The administration of these rights has been performed by the United States Government via the Federal Aviation agency (FAA)," Prime Minister Christie.
"It is of interest to note that Bahamasair in the last three years alone has paid overflight fees in excess of $1 million," Prime Minster Christie noted, adding that the entire aviation sector will benefit from cost savings and general enhancement.
Negotiations began in earnest in Nassau in 2014 with the latest meeting taking place in Miami from December 15th to 16th of 2016.
Prime Minister Christie also pointed out that during a transition period, the Bahamas government will pay the FAA a management fee as The Bahamas readies itself for total management control of its airspace.
Transport and Aviation Minister the Hon. Glenys Hanna-Martin who led the negotiations said The Bahamas intends to expand its airspace to match its maritime territorial borders
Attorney General touts success of Swift Justice
In her address at the ceremony to mark the opening of the Legal Year on Wednesday, Senator the Hon. Allyson Maynard-Gibson, Attorney General and Minister of Legal Affairs highlighted Swift Justice among the "successes" and "sweeping changes" within the judicial system over the last four years.
The Attorney General credited Swift Justice with assisting in resolving several deficiencies that plague the administration of justice such as closing conflicts in calendars; unavailability of transcripts; inability to empanel juries and the inability to obtain representation for accused persons. Some of the "sweeping changes" highlighted were integrated justice; a new court reporting unit utilizing new systems; a new jury administration system and the Office of the Public Defender.
She asserted that the use of technology is effective in closing off the "escape routes" as numerous court related matters can now be expedited via video conferencing from the Department of Correctional Services at Fox Hill.
"This means that only persons being tried need to be brought down daily from Fox Hill to the Courts in Bank Lane…And, citizens who have sat on juries have already applauded the use of digital projection of photographs and the recent inclusion of digital projection of documents."
Mrs Gibson announced that Swift Justice will be extended to the Magistrate's Courts in 2017 where serious matters such as drug, gun and trafficking offences will be prosecuted in the Magistrate's Court.
In attendance was Chief Justice the Hon. Sir Hartman Longley, President of the Court of Appeal, Dame Anita Allen; other justices; Elsworth Johnson, President of the Bahamas Bar Association and members of the Legal Profession.
Bahamas government welcomes end to US "Wet Foot/Dry Foot" policy
In one of his last major policy decisions, outgoing US President Barack Obama brought with immediate effect, the so called "wet foot / dry foot" immigration policy of the United States with regard to Cuban nationals landing in the United States to an end.
This decision comes following the renewal of diplomatic relations between the two countries the United States and Cuba and under this new policy, Cuban nationals will now be treated like any other foreign nationals landing in the United States illegally.
"The Bahamas ​Government welcomes this decision, particularly as it is believed that this policy was believed to be driving the rise in Cuban landings in The Bahamas" said the Bahamas Ministry of Foreign Affairs in a statement but reserved further comment on the effect of the policy pending the actions of the incoming administration.
​"The Bahamas repatriated187 Cuban nationals in 2014. With the US rapprochement of Cuba at the end of 2014, The Bahamas repatriated 196 Cubans in 2015; and numbers continually spiked fromJune 2016 ending the year with 917repatriations. Up to 12th January 2017, 114 Cubans have been repatriated" said the statement.​
Mitchell updates public on shipyard dispute
Immigration Minister the Hon. Fred Mitchell updated the public this week on the status of the labour and immigration dispute at the Grand Bahama Ship Yard.
"The Directors provided additional information (during a teleconference) which is now being referred to the Director of Labour for further investigation and there is an agreement to discuss the findings of the Director of Labour again by mid next week. I have agreed to stay any further action until at least that time" said the statement.
The Minister further advised that he also met with the union, urged restraint by them and assured them that "this matter be determined one way or the other by 24 February…"
In Passing…
Transport and Aviation Minister Glenys Hanna-Martin said she is "outraged" that women registering to vote are still being turned away by staff of the Parliamentary Registration Department because of "the way they are dressed." In a statement on Facebook, Hanna-Martin said it is "beyond unacceptable" and cannot be tolerated that women are being prevented from exercising a fundamental right.
Baha Mar's new owner will start the process of hiring thousands of Bahamians workers on Monday of next week, as it targets April 21 for a first phase opening. Robert Sands, Baha Mar's Senior Vice President of Government and External Affairs said that CTFE's initial priority was to fill positions at the golf course, including its food and beverage operations and the casino and casino hotel.
A pilot partnership project between the University of the Bahamas (UB) and Resorts World Bimini (RWB), which resulted in six students gaining work experience at the four-star resort during the holidays, has been deemed a success, so much so that it could potentially lead to a viable program and future employment opportunities.
The Pathfinders Task Force continues to keep giving, donating some $30,000 worth of roofing material to the National Emergency Management Agency's warehouse in Grand Bahama on Friday.
The Central Bank of the Bahamas recently said direct intervention through mechanisms such as price controls on commercial banking fees would only create further distortions, negatively impacting consumers. This comes in the wake of a recent survey that revealed increases in banking fees as high as 43 per cent on "a significant number of services".
Dr. Fabrizio Zanaboni, president of Stellar Waste, the company at the center of the Renward Wells' Letter of Intent (LOI) controversy has reiterated his continuing interest in taking over management of the New Providence public landfill.
The Inland Revenue Department is seeking to push more taxpayers to online payments, in a bid to improve efficiency, compliance and customer experience. The move comes as all VAT registrants are now required to file their monthly and quarterly returns a week earlier, on the 21st of the month following the period end.
The government has earmarked $500,000 in assistance to small farmers across the nation's archipelago. The funding, which will be disbursed through a micro-loan initiative between the Bahamas Development Bank (BDB) and the Bahamas Agriculture and Marine Science Institute (BAMSI) is expected to go toward farm upgrades and agricultural improvements, Assistance Manager of Credit for Bank of the Bahamas Ian Rutherford said.
Anglican Archdeacon James Palacious in addressing the crowd on Majority Rule Day at the Southern Recreation Ground said "black people breed too much", adding that Bahamian women "should stop having babies" they cannot afford. His comments drew sharp criticism on social media and on talk radio.
House Speaker Dr. Kendal Major, who is also chairman of the Constituencies Commission, is "disappointed" that the group has not completed its report, while revealing that several factors, including low voter registration numbers and "contention" among members, delayed its progress.
Contracts valued at some $3.5m have been issued for labor and material to repair homes damaged by Hurricane Matthew last year, Labor Minister and Hurricane Czar Shane Gibson told Parliament on Monday. Gibson also revealed that the response to the loan programme for public officers and employees of the government for hurricane related repairs has been "overwhelming", to date totaling $24,109,165. He said this number was equivalent to 5,128 loan approvals. He also confirmed that 10,000 assessments have been completed on homes damaged by Hurricane Matthew.
An estimated 2,500 persons in the public service stand to be regularized, according to Labor Minister Shane Gibson, with some workers having been kept in 'temporary' status for 23 years. Mr. Gibson made the revelation in the House of Assembly on Monday, as he spoke on the government's effort to integrate temporary workers into the public service.
St. Anne's MP Hubert Chipman confirmed Tuesday that he is considering running as an independent in that constituency.
The Grand Bahama Children's Home has received several generators and toys as a result of separate donations from the Miami Dolphins and the Bahamas Tourist Office in Plantation, Florida.
Prime Minister Christie said on Tuesday that despite the opinions of naysayers about the completion of Baha Mar, through the government's efforts to resolve the crisis created when the former developer filed for bankruptcy protection, more money was pumped into the economy and more jobs will be made available for Bahamians.
The Royal Bahamas Police Force's investigation into allegations that Lyford Cay resident Peter Nygard orchestrated a murderous plot against his billionaire neighbor Louis Bacon and lawyer Fred Smith, QC, "is not going anywhere," Police Commissioner Greenslade said Wednesday. Although the allegations were contained in the hundreds of pages of affidavits filed by directors of Save The Bays last March, those making the claims never made an official complaint with the RBPF, the police chief said. Save the Bays denied this.
Looming, a popular activity likened to a Ponzi scheme is illegal, Police Commissioner Greenslade said on Wednesday, warning that those who participate in the scheme could find difficulty receiving remedies through the justice system when problems arise.
With the sale of Baha Mar complete, Prime Minister Christie told reporters on Wednesday that Attorney General Maynard-Gibson has been directed to have the records made public at the "earliest opportunity." This is consistent with the promise made by the Prime Minister when the sale was announced months ago. The terms of the sale were sealed by the Supreme Court.
Speaking to reporters on his stewardship as Prime Minister, Mr. Christie said that his administration had done an "outstanding job" for and on behalf of Bahamians. Adding that he believed that if justice is done Bahamians will see that the PLP has earned their confidence in being able to govern the country for the next five years.
The DNA unveiled nine general election candidates last night, including talk show host Lincoln Bain for Pinewood. The list of candidates unveiled last night also includes:
o DNA Leader, Senator Branville McCartney for Bamboo Town
o DNA Deputy Leader Chris Mortimer for Seabreeze
o Attorney Arinthia Komolafe for Killarney
o Occupational therapist Charles Robins for Yamacraw
o Contractor and RBDF officer Cyril Miller for South Andros
o Businessman Derek Smith for South Eleuthera
o Civil servant Ruth Flowers for South Abaco
o Attorney Wallace Rolle for Nassau Village
The FNM on Wednesday night ratified Navarro Bowe for Exuma and Ragged Island and Miriam Reckley-Emmanuel for MICAL.
FNM MP Butler-Turner looks set to run as an independent in Long Island
Chief Justice Hartman Longley on Wednesday denounced an attempt by Parliament to determine whether Justice Indra Charles should be held in contempt of the House of Assembly for her landmark ruling on the limits of parliamentary privilege last August. He asserted that discretion to consider bail in certain cases should be restored in the Magistrate's Court and in addressing the amendment to the Bail Act in 2016, he said that it further restricted the power of magistrates to consider bail in criminal matters. He added that the Public Defender's Office is expected to reduce some of the delays in criminal trials before the judicial system.
Captain Randy Butler, Sky Bahamas' President and Chief Executive, hailed the government for saving him $100,000 in annual payment to US regulators.
Attorney, author, historian and member of the United Nations Convention on the Elimination of All Forms of Discrimination against Women (CEDAW) Marion Bethel criticized recent comments made by Anglican Archbishop James Palacious that "black people breed too much" as offensive, and asserted that, that type of thinking should not be tolerated in the Bahamian society.
The PLP announced that the party will complete its candidate ratifications next week ahead of the party's 52nd National General Convention slated for the 24th to the 26th of January 2017 at the Melia Resort in Cable Beach.
Attorney General Maynard-Gibson confirmed on Wednesday that the Office of the Public Defender, which was part of a $20m Citizen Security and Justice Program, funded by the Inter-American Development Bank (IDB), will be formally opened later this month.
The government and the University of the Bahamas (UOB) signed a memorandum of understanding (MOU) for the national training and development of the public service. The MOU is intended to facilitate the training of civil servants.
Minister of Labor and National Insurance Shane Gibson said on Thursday that the government has entered into a public-private partnership (PPP) to construct a new post office at the independence shopping center opposite A.F. Adderley Junior High School.
About the author: Elcott Coleby is a Deputy Director at the Bahamas Information Services. He holds a Bachelor of Science degree in Chemistry (B.Sc) and a Masters of Business Administration (MBA). He provides frequent commentary on public policy and communicates the works of the government. Address all comments to the following email: egcoleby44@gmail.com