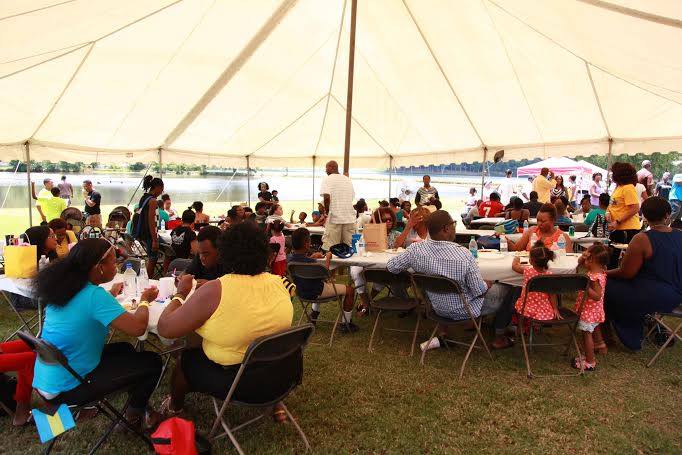 By Arthia Nixon, The Ambassador Agency
Photos by Gianne Demeritte
for The Bahamas Consul General of Atlanta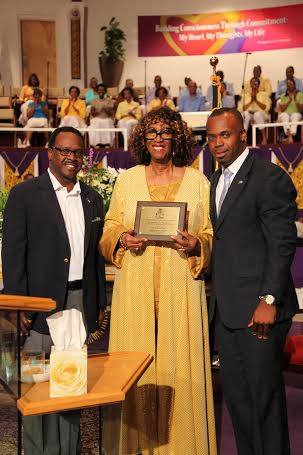 (Atlanta, Georgia)…Two days after the fireworks over Clifford Park and a rivoting Junkanoo parade ushered in the 41st anniversary of The Commonwealth of The Bahamas gaining independence from England, Bahamians in the USA marked the occasion with their own tributes with a family fun day and church service.
The group of patriotic students, foreign workers, dual citizens, permanent residents and even tourists from the islands gathered in Lithonia on Saturday, July 12 to celebrate the milestone. With a lake and wooded area as their scenic backdrop, Bahamian music filled the air as members of the Bahamian diaspora dressed in the colors of the national flag, dined on native cuisine inclusive of their signature conch salad, fritters, fried fish, souse, peas 'n' rice and guava duff.
"There were over 700 attendees at this year's family fun day," noted Randy R. Rolle, Bahamas Consul General for Atlanta and the surrounding areas. "There were so many Bahamians who donated food, drinks, their time and talents and so many who brought their friends out to see why they are so proud of their heritage. While there was a $5 fee to park at the event, everything else was free to attendees. My office has been inundated with calls from persons who wanted to thank us for such an event, and at the same time, sign up with us. However, the credit for the success of the events is certainly not with me but those who selflessly gave their time to organize, spread the word, share the flyers and make time to celebrate with us on Saturday and Sunday. I had the opportunity to meet with several Bahamians who are doing tremendous things within the area. I am looking forward to working in partnership with them as they continue to excel."
Guest DJ The Mighty Pencil from Nassau, flew in to give guests of popular Atlanta hot spot Frank Ski's the sound of the Bahamas with an evening affair and after party. On Sunday morning, Bahamians gathered at Hillside International Truth Center for service of thanksgiving.
Following the service, Dr. Barbara King, pastor of the church was presented with her Friends of The Bahamas Award by Consul General Rolle and Daniel Johnson, Bahamas Minister of Youth, Sports and Culture.