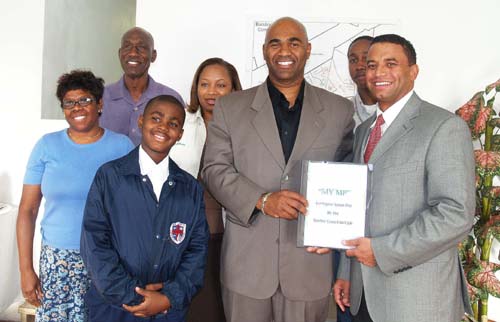 <<< Bamboo Town MP Branville McCartney presented with script of new movie.
The Bamboo Town Film Club (T.B.T.F.C) held a press conference recently in an effort to launch their new movie called my M.P. The movie, written by members of the club under the guidance of Celi Moss, President of The Bahamas Film Festival promises to be quite interesting.
The gist of the movie is about a Member of Parliament (m.p) Mr. Brown who has sought to represent his constituents in a proper manner. Brown seeks to move away from the hand out society, where m.p's are expected to contribute lavish gifts to a community. Instead he aims to assist members of his community in various ways and also be a facilitator for his constituents. Brown, also will like to see other m.p's follow suit.
When quizzed about whether the title character in the movie is reminiscent of him, Member of Parliament for Bamboo Town Branville McCartney gave a very resounding yes. He expounded on his answer by adding, when I read the movie I often wondered if Mr. Moss was on the campaign trail with me during he election. Many of the things I said and did and continue to do are reflected in that movie.
He not only sanctioned the movie but also has opened his constituency offices for T.B.T.F.C to hold their meetings. ' I have to give all credit to Mr. Moss and the members of The Bamboo Town Film Club. They did all the hard work. I am now looking forward to the national casting call in the very near future and will be calling on members of the public not on residents of Bamboo Town to come and try out for the movie. '
At the conference Mr. Moss presented Mr. McCartney with a signed copy of the original screenplay.
He beamed with pride upon receiving the document, and declared while clutching it that he will definitely treasure it.