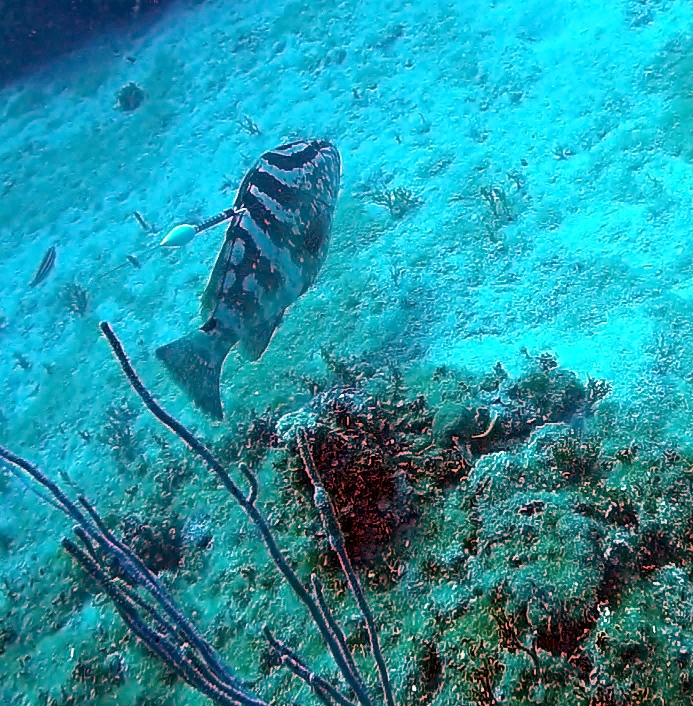 Andros, Bahamas — The first field marine research project of the Bahamas Agriculture and Marine Science Institute (BAMSI) was initiated during the first week of January 2015 at the well known Nassau grouper aggregation off High Cay, Andros. This project is designed to investigate the dispersion and fate of mature Nassau grouper (Epinephelus striatus) for the next year after participation in a spawning aggregation. This initial project will investigate this marine resource which is very important to the marine ecosystem as well as the culture and diet of Bahamians.
The importance of the Nassau grouper to The Bahamas is emphasized by the introduction of legislation which prohibits its capture during its reproduction period, from December to the end of February, in order to protect the species. Spawning aggregations have disappeared throughout much of its range and overfishing is believed to be primarily responsible for this. It was noted that very few fish were found at the High Cay site in early January.
The project is led by Dr. Vallierre Deleveaux, Director of Marine Science of BAMSI and Dr. Nelson Ehrhardt, of the University of Miami (UM). Dr. Ehrhardt's participation was made possible through the Memorandum of Understanding (MOU) that was signed between BAMSI and UM during July of last year.
The Marine Science Department of BAMSI has the vision to provide training and research that enhances marine science knowledge and promotes healthy marine populations and environments while meeting the needs of the Bahamian people.
VAT PSA 14 from King Of Hearts Media on Vimeo.
PSA 18 from King Of Hearts Media on Vimeo.