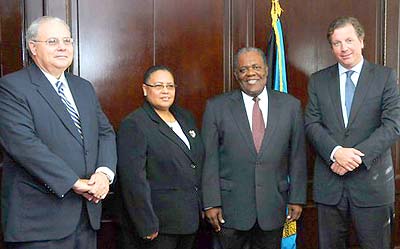 <<< First Caribbean International Bank executives paid a courtesy call on Prime Minister the Rt. Hon. Hubert Ingraham at the Office of the Prime Minister, Cable Beach on January 29th, 2009 (THE BOSSES WERE IN TOWN!!!). What was said to the PM during that meeting? ONLY Bahamas Press MEDIA OUTLET knows. Pictured from left are Michael Mansoor, Group Chairman; sacked Sharon Brown, Managing Director Bahamas Turks and Caicos; Prime Minister Ingraham and John Orr, Chief Executive Officer.
Nassau, Bahamas — Some are going home today, just in time for Christmas! Breaking news now flooding our newsroom confirms Bankers at First Caribbean International Bank are being let go as we speak. A senior officer at the bank now tell us the entire top brass of the bank will be removed.
Readers would remember it was this website which confirmed the exodus of workers at the Bank, which caused us to question the stability of the bank which was named for having mortgages held with CLICO.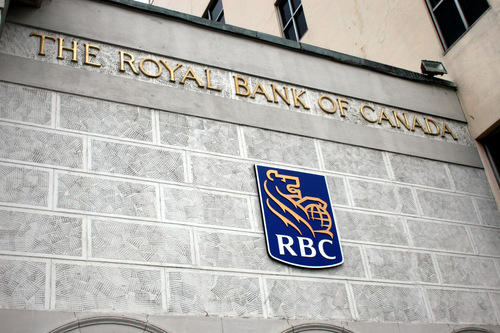 In March of this year Bahamas Press possibly saved some of the jobs of the management team, when after our breaking story announced the more than 160 workers could face the axe. We told you in that story the bank's managing director Sharon Brown would be a victim of the downsizing exercise now underway. Well, we were scoffed, mocked told to be creators of lies, but guess what? We now know Brown will be hitting the door on the way out after today. She along with the entire top brass of at FCIB has received their letters of dismissal and is being sent home.

Added to this, we now know two bankers at the Royal Bank of Canada also received their walking papers today. They were fired on the spot by the bank!
Head offices in the Caribbean operate both banks. FCIB's head-office is located in Barbados and at RBC decisions are now made at its head-office in Trinidad. This axing of Bahamians is a direct result of the fact track backward policies of the MUGABE led government. Ingraham and no one else has overseen the backward movement of our banking sector. There was a time in the Bahamas when bankers made decisions right here in the country, NOT Trinidad nor Barbados! But thanks to this WUTLESS administration, bankers today in the Bahamas are answering to their regional colleagues and will now be replaced by them.

Mugabe Trust Agenda Strikes AGAINST BAHAMIANS once again!