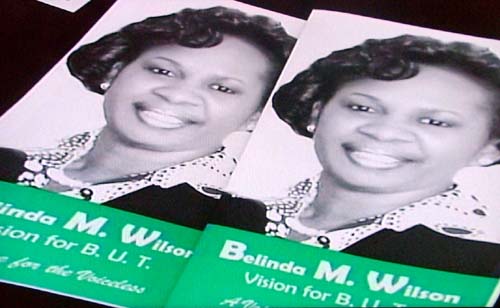 Berlinda Wilson now President-elect for the Bahamas Union Of Teachers. CONGRATULATIONS from our 298,000 PLUS weekly READERS!
Nassau Bahamas – Three out of every four votes counted in the hotly contested Bahamas Union of Teachers (BUT) election on Tuesday concluded that Ms. BERLINDA WILSON is the right woman to head the BUT.
Educators lost much respect for former president Ida Turnquest-Poitier when her sudden shift in the School Policing programme went political, leaving union members in shock. Ida threatened former minister of education Alfred Sears to withdraw her teachers when an educator was attacked by a parent at the St. Georges High School in Grand Bahama. However unknown to most executives whilst blood continued to rise on school grounds around the country, Ida near the 2007 elections laid a position that police should be withdrawn from schools.
Then there was the SCANDALOUS $100,000 of teachers money gone missing from within the BUT. WHO STOLE THE MONEY IDA WHILST YOU LED THE UNION? Ida led a CORRUPT, 'Politically BIAS' strangle hold on teachers, which developed a divide within the union and calls for her removal began. Bahamas Press OPENLY supported Berlinda Wilson in her campaign, and we called for All Educators in the union to support Berlinda in her bid for the presidency. Teachers delivered 3 to 1 victory for Berlinda Wilson. Bahamas Press congratulates Berlinda Wilson and her team. 'Your time has come!"