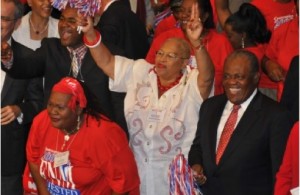 Freeport, Bahamas — The Bahamas Government has lost control in the management of the Grand Bahamian economy and is watching by the day the axing of their own supporters in Freeport.

Bahamas Press can confirm Boarder Moultrie, the brother of Halson Moultrie, and a BIGTIME FNM supporter on the island of Grand Bahama, has lost his job in the axing exercise on that island during the holidays.
Boarder joined the air traffic control department back in 1970. At the time of being axed, he was the manager in charge of air traffic control at the Freeport terminal.
The sad point is this: Boarder had just recently committed to a new marriage and had just gotten a mortgage for a new home for his family.
Friends close to Boarder told Bahamas Press, "The government has fallen into a deep deep sleep on the island of Grand Bahama. They could have partnered with the business community to help save jobs on the island. Here is a situation where their own supporters are being chopped down like sheep for the slaughter and there is no intervention by the government. They have neglected the people of Grand Bahama and have turned their backs on the people of the Bahamas on the eve of a general election. They are shameless!"
In response to the terminations at Hutchison, the Ingraham Government has turned its attention to blaming the PLP. Boy I tell ya, they take responsibility for nothing.