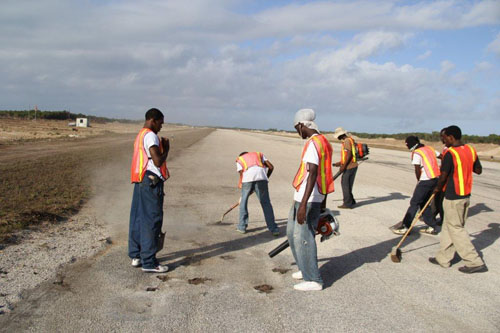 BIMINI, Bahamas – One Bahamian company who is adding to its payroll just in time for the holidays is Airport Maintenance Services Limited.
Airport Maintenance Services Ltd provides safety management systems and tarmac maintenance services  inclusive of pavement markings, surface preparation, removal of rubber deposits, and protection and sealing of pavement from deterioration by penetrating contaminants.
Three months after its launch, the company has been awarded the contract by Resorts World Bimini and The Genting Group to upgrade the Bimini's southern airport to international standards in order to commence and  accommodate night flights. The company has now hired ten local Biminites to begin the preparation work for the tarmac maintenance project.
The upgrade and maintenance of the runway is set  enable growth and catapult the economy of Bimini which has been slowly turning the corner due to the infusion of investment dollars from The Genting Group.
Additionally it will increase the island's tourism industry as the airport will be able to accommodate night flights, and overall it will provide local employment opportunities.
Airport Maintenance Services Managing Director Allen Albury indicated, "The company is excited about the new hires in Bimini. This is going to bring Christmas early for the young men who are seeking employment and it will bring much financial relief in helping them to have a better Christmas."
"We see this as a tremendous opportunity for Biminites with Atario Mitchell and AMSL having won the contract for the south Bimini airport. This is the beginning of something that will have an economic impact on the lives of these young people." he added.
Jermaine Henfield, a new employee of Airport Maintenance Services said, "I did not have a job for over a week, and this project will help me to provide for my kids, and give them a good Christmas. It's also about the bigger picture for me. We need to have tourists coming here all throughout the year. That would be good for all of us."
Another recent addition to the company, Andre Roberts mentioned that, "He has been looking forward to this, because we need our tourism industry to come back and its important to have the night flights."
Once the project is complete, Bimini will be the third airport in the Bahamas that will be able to accommodate night flights.
President of AMSL, Atario Mithchell indicated, "We started this company three months ago with our partnership withHi-Lite Global. It  is  great that Resorts Word Bimini and the Genting Group has awarded my company the contract.
They can be assured that the work will be completed on time and on budget."
"It will assist the developers in getting night flights, it will help the economy of Bimini, more tourists and more locals will have the opportunity to come in at night time and it will make the island naturally viable for the developers and the residents." he said.