Archdeacon Brown has much work to do still in the Church!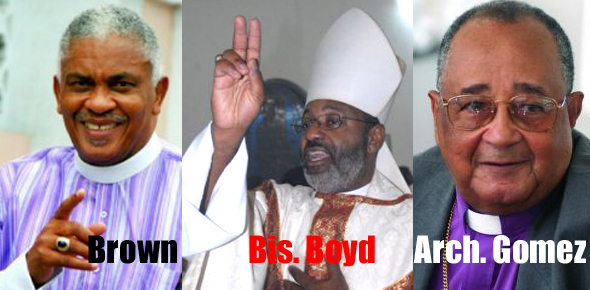 Members of the Communion must pray for the church!
Nassau, Bahamas — Anglican Bishop of the Bahamas and the Turks and Caicos Islands Rt. Revd. Laish Zane Boyd is now holding his crozier tightly and is firmly exerting his power and influence in the Anglican community following the developments out of St. Agnes Church.
The Bishop took charge of the parish over the weekend and he blessed the souls of members – particularly mothers – as he sounded his warning for the church to pray.
A few weeks ago the Bishop put his foot down on rogue priests and has disciplined some for behaving wild.
Reports confirm the Bishop has suspended the Archdeacon Ranfurley Brown from the Parish after he via a vestry member vote removed a member and banished him from the board of the parish.
Seeking accord in the church the Bishop attempted to broker an understanding following the feud, however the rector, allegedly, stormed out of the meeting and defied the orders handed down by His Grace!
Just short of defrocking the St. Agnes pastor, the Bishop suspended him, and it is alleged he also stripped the Archdeacon Brown from the table of his Patriarchal Cabinet.
Following that suspension the Bishop gathered senior members of the clergy and locked down in meetings at a Clergy Conference held in the Berry Islands where the way forward for the Communion was discussed. At the end of the meeting four new Canons were appointed in the church. They are Frs. Sebastian Campbell, Norman Lightbourne, Peter Scott and Crosley Walkine.

We believe, however, Fr. Brown has much work to do still in St. Agnes and we advise the Bishop to seek the counsel of the Church's most trusted and faithful emissary, Archbishop  Drexel Gomez, to resolve the tensions at St. Agnes.
For as Galatians 6:1 tells us: "Brethren, if a man be overtaken in a fault, ye which are spiritual, restore such an one in the spirit of meekness; considering thyself, lest thou also be tempted."
We report yinner decide!
Priests Elevated following Successful Clergy Conference in Berry Islands