GUILTY, GUILTY, GUILTY was the echo in the courts today as the country's Swift Justice Program moves full steam ahead….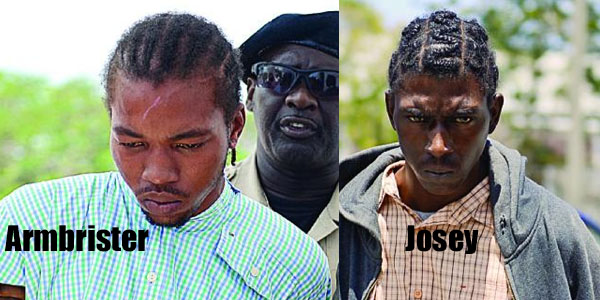 Just 9 months after being charged this pair is convicted!!! Swift Justice is moving full steam ahead!
Nassau, Bahamas – Today was another great day of victory for the Bahamian people as both Maurice Armbrister, 23, of Faith Gardens and Excel Josey, 21, of Balls Alley, were found guilty this evening in the attempted armed robbery and attempted murder relating to the April 10, 2013, assault against Police Superintendent Clayton Fernander.
The prosecutor representing the crown was Neil Braithwaite, who some say did a brilliant job in delivering the case home for the crown. Braithwaite and team gathered the evidence that lead to another guilty conviction for the people.
You would remember during a night of horror in April amidst the heat of violent gun and murderous uprisings in the capital both men entered the compound of the police officer and opened fire on him, hitting him multiple times along his arm.
Armbrister was further charged with possession of an unlicensed firearm and ammunition – a black and silver Smith and Wesson .45 pistol with 29 .45 bullets, which demonstrated clear intention to kill and/or maim the victim.
And although Jiaram Mangra, the attorney defending Josey, and Wayne Munroe, who defended Armbrister, did what they could to try get their clients off the hook – but – SWIFT JUSTICE wasn't playing this time.
As we told readers before, there is a new Sheriff in town, and with the judiciary, the police and all the prosecutorial arms of the State now working together – added along with BP wailing the crooks and seeking them out, the people of the Bahamas can rest assured Justice will be done!
There is another Victory in the Courts of the Bahamas! And her citizens can sleep a bit quieter tonight.
With the laws in place, we hope on sentencing day all we hear is HANG-HANG-HANG-HANG!!!!
We report yinner decide – BP is outside the courts.