<<< Picewell Socca Forbes MP South Andros.
Nassau, Bahamas – Brave's victory, Christie's triumphant return and even the tragedy involving three police officers was overshadowed by Picewell Forbes' Kanye-style 'all-eyes-on-me' display which landed him in court today. And ladies and gentlemen, we were there along with Shane Gibson, Fred Mitchell and stalwarts and delegates who left Cable Beach to see the fate of 'Spicey Picey'. In the front row was GEMS Shena C.
Forbes appeared in Supreme Court before Justice Anita Allen to explain why he shouldn't be hit with a contempt charge. If you check our link right here on Bahamas Press, you'll see that the Hometown Boy was dancing a jig after he made the biggest public oops on live national TV saying: "Well, we have some good news PLP's. Pleasant Bridgewater is a free woman! God is good PLP's! Pleasant is a free woman PLP's! God still reigns!"
We at Bahamas Press don't doubt that God reigns (AMEN), but it sure has been raining SHAME for the PLP after this hot mess has landed Picewell as the biggest blabbermouth in the nation. It's okay though, at least it takes the attention away from Pleasant. Perry got some housecleaning to do with this one.
On Wednesday night as attorneys and journalists were waiting outside of the courthouse for a verdict to be passed, cellphones lit up like Christmas morning with as editors and well-wishers wanted confirmation to Picewell's announcement. Even Pleasant and her family were getting congratulatory calls from where they were praying together.
Well yes readers, as promised, BP's court reporter was there at 10.15am when Justice Anita Allen walked in with a stern look on her face. Picewell took his seat behind his legal eagle team of Andrew McKinney, Alfred Sears and Wayne Munroe. Munroe, has already gotten his name in the Hollywood circle thanks to Anna Nicole Smith and Howard Stern in the inquest of Daniel Smith a couple years back. Meanwhile, Bernard Turner, who was visibly vex when he heard about the mistrial is the prosecutor in this one.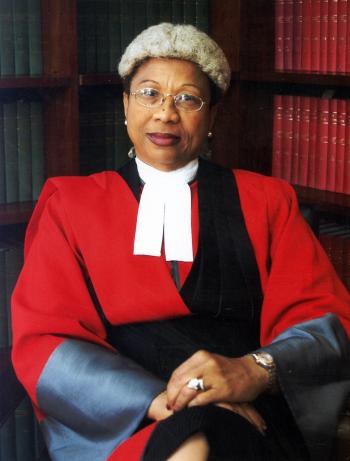 Allen didn't pull any punches. She went for the jugular when she asked Forbes why he should not be held in contempt. Munroe said that they team is not prepared because they were unsure of the "precise allegation".
"It's obvious," Madam Justice told him. She reminded him that the charge of contempt against Forbes arose from an announcement made at the PLP convention in the middle of jury deliberations. She also said that there was no evidence that there was a communication from the jury room.
Since Soca Forbes and his team have not been able to prepare, they asked to reappear next week. So readers, stay tuned because we'll be back on Bank Lane on Thursday when Picewell and his crew explain what they have to explain. [BP Anniversary PhoneCard: 8650 0799 4414]
Meanwhile on Thursday October 22, the day after Picewell's proclamation, the PLP issued this statement via www.myplp.com: "Last evening in the course of an address at our National General Convention, it was announced that former Senator Pleasant Bridgewater had been acquitted. The announcement was incorrect. We give an unqualified apology. This was not intended to interfere with the administration of justice."
Picewell's attorney McKinney told reporters: "We will take whatever steps are necessary to convince the judge that there was no interference by our client with the trial or with the procedures that were required to be followed by anybody including Mr. Forbes."