One man is dead following a fatal shooting in Millennium Gardens – incident is believed to be over woman…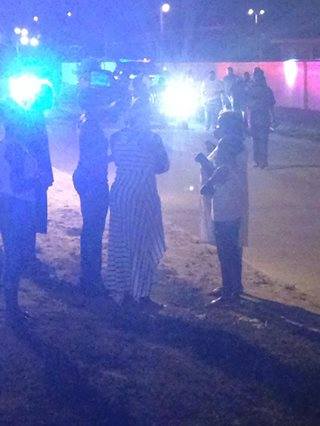 Nassau, Bahamas – A suspected robber by the name of, Giles Russell, was shot by an officer after attempting to rob the off duty police last night.
And get this; sitting nearby in a get away car for Russell was a female. That female, who BP will not name at this time, was indeed an Immigration officer. Police nabbed the pair last night as they attempted to make good their escape.
Bahamas Press can report the as Russell was shot and attempted to get away; he dropped his weapon before attempting to flee into that awaiting vehicle. Police are now questioning the female – The male robber Russell was taken to Doctors Hospital.
All we can say is this; look what the damn immigration officers have come to. But ya know this the Bahamas – where – if a Principal could murder and be at the top of a school, then certainly without any standards, the female immigration officer is expected back to work soon. This is the Bahamas where money talks and bullshit walks!
Meanwhile Bahamas Press is reporting another overnight shooting that has left on man dead in the Millennium Gardens area.
According to BP reports, two persons on a trail motorbike were shot by persons driving in a Honda Steam. One of them succumbed at the scene. This incident happened near children's home in the area. Sources believe the shooting was over WOMAN!
And while the country celebrated more police boots on the ground this week, a crew of officers celebrated the graduation of their squad-mate.
The party began last night, but all didn't end well.
The party was in full swing when a rasta male known as Mikey from the Fox Hill community was told to cease and desist his smoking of ganja at the event. A row then ensued between the officers and the 'peace pipe' smoking Mikey. Along with Mickey was another male known in the Pinewood area as Jacob Wells. The men and a third suspect then jumped into their White Escalade, and then opened fire on the partying government workers; hitting two males in the leg.
The men then fled the crime scene along the Cowpen Road area. A prison officer and another police were both the victims of that shooting. Their injuries were not life threatening.
After reading this morning's report all we say is this; looks what the people wearing uniform and working for government have brought the country to. They are setting little example and are committing crimes!
Tell me, what two harden criminals doing smoking weed at a police officer's party in the first place? Could they be celebrating the elevation of one of their own?
Here again is news you will not read anywhere else but on Bahamas Press.
We report yinner decide!