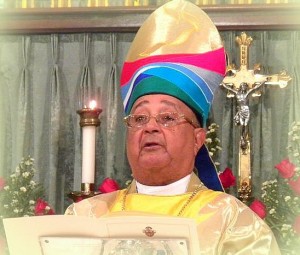 Nassau, Bahamas — Bahamas Press salutes His Grace, Archbishop Drexel Wellington Gomez, on his 50th anniversary celebration of ordination to the sacred priesthood.
The former Primate for the Caribbean has had a long lasting career as a spiritual and moral voice in the country and around the world.
He was just 36 years-old when he was enthroned as Bishop of Barbados upon the advisement of Bishop Bernard Markham. After returning home, providence would have him enthroned as the 12th Bishop of The Bahamas.
A member of Lambeth Conference in 1978/88/98 and 2008, he has served as Chairman of the Inter Anglican Standing Commission on Ecumenical Relations (IASCER) and as Chairman of the Covenant Design Group, which produced The Anglican Covenant.
The Archbishop is known for his unflinching commitment to God's Church, dedication without fail, and is a stern believer of holding the Church of God together even in times of great controversy and debate.
It was Bishop Gomez who the Church of England's head, The Rt. Rev'd Rowan Williams call upon when trouble commenced recently. The great war of the Seas erupted when arguments between the Communion in America breached relationship with the wider Communion around the world; almost forcing a split in the Anglican faith.
With great authority and command, the work of Bishop Gomez held the factions together as the Church looked to him for a solution to the crisis. Led by the , along with others led the way to a common understanding to prohibit the separation God's House on earth.
Bahamas Press salutes this honorable man, this Prince of the Church, this vanguard with Christian Voice and ambassador of Jesus Christ on his 50th Anniversary to the Order of the Holy Priesthood. His Christian formation from his early days as a preschooler; sitting in the Chancel at St. Agnes Parish was NOT IN VAIN! He has become a Great Salt in God's Earth, a chalice bearer of God's gifts to humanity, a vessel embodying the spirit of God and an example to mankind all over the world.
Today we salute His Grace, Archbishop Drexel Wellington Gomez in the anniversary of his celebrations! WELL DONE!