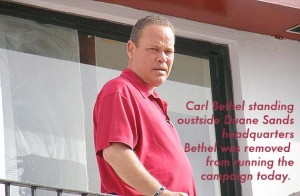 Bahamas Press
technical teams are working overtime as we have recieved word of a massive cyber attack orchestrated from a political headquaters on Mackey Street. We can confirm the group [SOME GOVERNMENT EMPLOYEES HIRED BY THE FNM] have launched this blatant attack against FREE SPEECH in the country.
Carl Bethel and his minions have consistently orchestrated a dangerous gamble to subvert commentary on Bahamas Press, and in their 'VICKEDNESS' to deduce commentary on the Bahamas' leading source for news and information.
Because of this, BP has decided to come full circle and implement some new measures to our product that will offer enhanced security and technical upgrades on our global portal of international readers. We cannot and will not allow some three persons to subvert the views and free expression of the many.
We warn Carl 'UNDERNOURISHED' Bethel and his  hired goons that we will not tolerate any foolishness and will expose them for the charlatins they are.
Come Next WEEK it is Carl Bethel's  Week ON BP! BE READY FOR SHOCK AND AWE ON BAHAMAS PRESS!
Stay tuned!