Developing situation on GB Highway leaves NEMA, ZNS and MET OFFICE with THEIR PANTIES DOWN!!! – WHAT JACKASSNESS happening in these agencies as they fail to warn residents!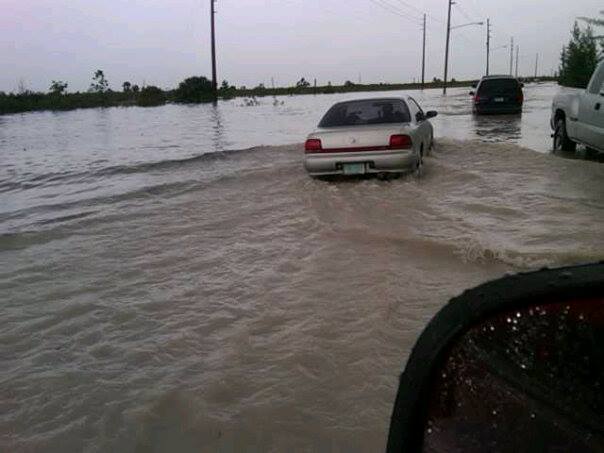 Why are the People of Grand Bahama not warned of these flooding by NEMA? – YINNER WAITING FOR SOMEONE TO DROWN?

Nassau, Bahamas — Bahamas Press is calling on the Christie government to take immediate steps to restructure the MET OFFICE, NEMA and ZNS before an unforeseen disaster occurs in this country!
Just this afternoon BP's offices were flooded with calls out of the Eight Mile Rock community which confirms heavy rains have created flash floods along the Warren J. Levarity Highway.
But rather than warn Bahamians in their news updates of the increasing risks facing residents in that community on this public holiday; ZNS was busy with a nasty FNM rumor posted along Facebook.
Additionally, since the rainfall and flooded roadways out of Eight Mile Rock, no announcement from NEMA have come nor the MET OFFICE warning residents of the risks and challenges now facing Eight Mile Rock residents.
Bahamas Press calls on all our social partners on our network to immediately warn residents and guest of the developing situation on the Grand Bahama Highway. The road is not safe, tides are rising and the currents in the area are getting strong.
We can also confirm the rain is down right now!
Where in the hell is NEMA when ya need dem!
We report yinner decide!