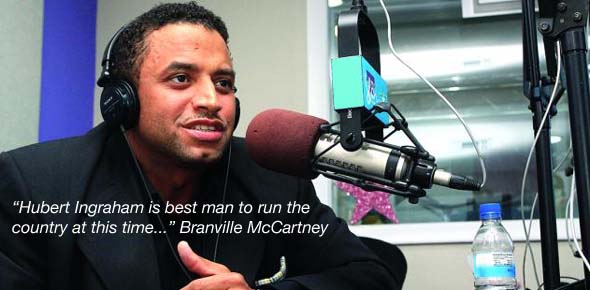 Nassau, Bahamas – There are some politicians who play a game; they say one thing today and then change their words the next day. Branville McCartney is indeed the greatest 'flip flopping' politician of our time.
During the 2012 campaign he went all across the country telling the nation how he was going to fix the broken tax system. He said a DNA Government will fix the broken system and will go the way of a Value Added Tax system.
Branville as like those in the FNM knew that government was being cheated out of it revenue. They knew the present system needed an overhaul. Zhivargo Laing also agreed, as did Carl Bethel that Value Added Tax [VAT] was the best way forward for the Bahamas.
But guess what? They didn't do it. They couldn't fix the system. They failed the people and continued on like a 'JUNGALISS WITH A STOLEN CREDIT CARD'; spending millions on roads, racking up debt, cutting benefits for the poor at NIB and enriching the few; particularly the 19 who benefited from the Arawak Cay Port.
Finally, the Christie Government came along and is today making the hard decisions to better the Bahamas for the next generation.
The Christie Government is not just agreeing that the system must be fix – but they are fixing it. Improving revenue, slowing the debt, creating employment and as shared on the campaign train – is today – MOVING THE BAHAMAS IN THE RIGHT DIRECTION!
But you just 'gata' listen to this clip below from Branville McCartney – Leader of the DNA! Why is he against VAT AGAIN?
We report yinner decide!