Baha Mar Sponsors Rake 'N Scrape Company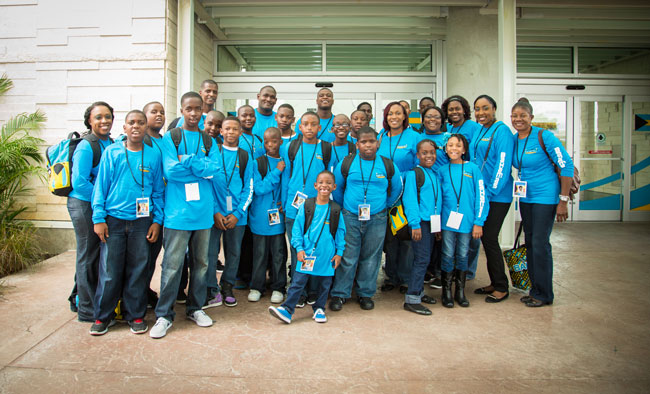 NASSAU, The Bahamas – More than a dozen rake n' scrape band members today embarked on the trip of a lifetime where they will perform at churches and colleges in and around New York City.
Over the course of this week, the Bahamas Rake n' Scrape Company, led by its director, Nathaniel Adams will perform at several landmark locations in New York including The Roman Catholic Church of the Epiphany and Vassar College, culminating in a one-hour concert at the United Nations.
Adams said the Bahamas Rake n' Scrape Company started with an idea and six Gerald Cash Primary School students. Now the band, which also goes by the name 'Rhythm n' Youth', has blossomed to 25 skilled members, ages five to 16-years from nine different schools across New Providence.
Adams said he was truly grateful for the donation from Baha Mar, which has helped to defray the overall cost of the trip.
"For five years we have been building and working on the rake n' scrape program. It's about the music, but music is only a vehicle," Adams explained. "Baha Mar donated to our group, which is a big deal. We can use that money to get items to get some things that will help the band to move forward."
Baha Mar is one of several sponsors that have helped to make the band's international trip a reality. Minister of Education, Science and Technology, Jerome Fitzgerald, commended corporate sponsors, including Baha Mar, for stepping up to the plate and investing in youth and education.
"Education is everybody's business. That requires everyone in our country to get involved and get behind it. Of course the government doesn't have sufficient funds to get everything done," he said. "It's refreshing when you have corporate sponsors who are sufficiently engaged and understand the importance of contributing toward education. For us, the public-private partnership is critical moving forward."
Baha Mar Chief Operating Officer, Paul V. Pusateri added, "Baha Mar wants to introduce the world to the art and soul of The Bahamas. There is no better way to showcase authentic Bahamian culture than to invest in our youth, which is the future of The Bahamas."