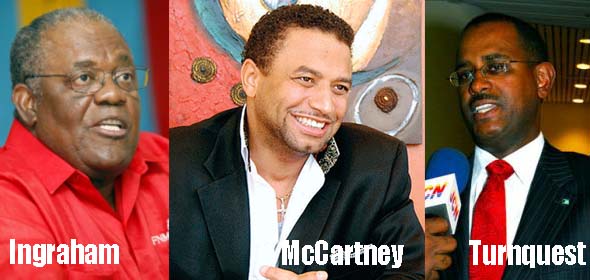 For Immediate Release
July 17, 2011
Democratic National Alliance
In light of recent revelations coming from officials at the Department of Immigration, The Democratic National Alliance is not surprised by recent comments made by Deputy Prime Minister and Minister of Foreign Affairs, who admitted that the Government of the Bahamas is moving to regularize thousands of non-Bahamians, while circumventing citizenship classes left in place by the former Minister of State for Immigration and Leader of the DNA, Branville McCartney.
These classes, which the DPM admitted has ceased since the departure of Mr. McCartney, would have ensured that person applying knew and could speak English, knew The Bahamas' National Anthem, Pledge of Allegiance, had an appreciation for and knew the Bahamian culture, our national heroes, our parliamentary process and various other vital aspects of our country.
The Party is gravely concerned, however, that the Government's attempts to regularize scores of non-Bahamians – this close to a national election being called – is nothing more than a political ploy aimed at securing votes, as they desperately seek to remain in power.    We note that comments made by the Deputy Prime Minister leave Bahamians with more questions than answers.
At this point in time, to believe that there is no political motivation behind regularizing more than 1500 immigrants at one time – solely based on the fact that their files "have been languishing in filing cabinets for years,"- is an insult to the intelligence of the average thinking Bahamian.  Answers like these continue to give the impression that the Government feels as if it can get any "old thing" pass the Bahamian people, as it has been doing for many years.
We, along with the Bahamian public say, not this time!
At a time when Bahamians are desperate for accountability in its leaders, our leaders cannot continue to disappoint or be disappointments – particularly when their overall performance has been just that—disappointing.
The DNA, once again, challenges the Government to put Bahamians first in their thought process, and – in the absence of the Freedom of Information Act that is promised to enact before the end of its term in office – give an account to the Bahamian people of how many non-Bahamians have been regularized in the past year.  The Deputy Prime Minister has failed to answer this specific question.
In addition, the DNA questions (1) why this Administration has NO data from June 30, 2010 to present, as it relates to how many non-Bahamian have been regularized. This is very curious especially in a supposedly developing country; and (2) the relevance of and implication in the Deputy Prime Minister's attempt to put his government's record up against the record of the Progressive Liberal Party during that party's term in office.
As an advocate for ensuring that the law is adhered to, the DNA believes in making our leaders accountable, protecting our borders, boosting our deflating economy and, most importantly, putting Bahamians first. Therefore, we are, once again, demanding a statement from the present administration on this immigration issue.
We, the Bahamian public, deserve a more adequate response from a Government looking to be returned to power. The present administration should answer this matter to the satisfaction of the Bahamian public, whom the