Ingraham spoke to the Embassy and called the Judges "INCOMPETENT"… Did he approve the tapping of Bahamian cellphones….??? PAPA IS QUIET ON THE ISSUE!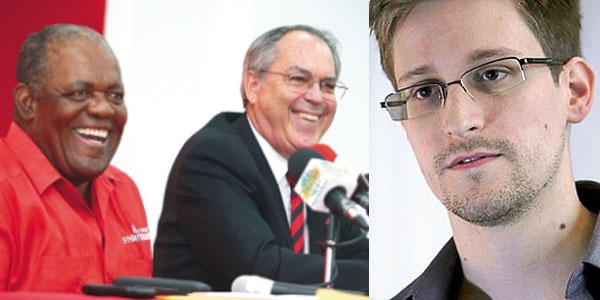 By Julian Hattem – 06/04/14 10:45 AM EDT
The government of the Bahamas has hired American lawyers to help with U.S. surveillance, after a report alleged that the National Security Agency was monitoring all the island nation's calls.
A week after the report based on documents leaked by Edward Snowden, the Bahamas directed the law firm Hogan Lovells to advise and represent it on a range of government actions "that may affect or relate to [its] activities and interests… including but not limited to surveillance and privacy matters," according to a federal disclosure document.
The inclusion of surveillance matters was a new issue for the law firm. Though it had represented the Bahamas since at least 2001, surveillance and privacy issues were not on its list of interests. In the past, the Bahamas had been more focused on trade and aviation issues with the U.S.
Last month, The Intercept reported on documents from Edward Snowden that showed that the NSA's SOMALGET program allowed it to record the contents of every cellphone conversation in the country and keep those recordings up for a month.
The news seemed to be a dramatic escalation of the NSA's activities.
The phone records collection program in the United States, for instance, merely collected "metadata," or information about people's calls like which numbers they dialed and when, not the actual content of their conversations.
According to the news outlet, which was founded by journalist Glenn Greenwald, the spy agency worked with the Drug Enforcement Administration to sneak into the Caribbean nation's cell network without the host government's knowledge. One document called the effort a "test bed" for the system.
The Intercept and The Washington Post reported that the program was also operational in another country, which WikiLeaks later alleged was Afghanistan.
— Megan R. Wilson contributed./Thehill.com