Click to Read What is Said in The Video
Nassau, Bahamas — A packed courtroom listened quietly as Pleasant Bridgewater and Tarino Lightborne were unknowingly recorded in conversation with John Travolta's Florida attorney Michael McDermott.  The morning started with McDermott and Inspector Saunders being sworn in and then the playing of a 20 minute audio tape, followed by footage of him and Brdigewater in his hotel room, then another set of images with him and Tarino 'Robin Hood' Lightbourne. At times McDummit  (as our readers call him), appeared to have been a bigger actor than Travolta himself with dramatic heavy breathing and voice pitches in some instances.
The audio tape recorded in January began with McDermott calling Bridgewater and a man answering the phone. While they exchanged a few sentences, voices in the background were talking PLP, specifically calling Kenyatta's name. A few seconds later, the phone was handed to Bridgewater who we speculate went to a private area as the noise in the background ceased.
"I have a lot of questions," McDermott told her. "If this goes down and I don't do it right, then it's all on me."
Bridgewater said that she's going to get a flight to Nassau to meet McDermott at the Sheraton. He told her that he'd been reading the press and he wasn't happy with Lightbourne talking sip sip about the what went down with John Travolta at the scene. "That sends shivers up my spine!"  he told her. "What the hell is this guy doing?"
"He called me and he said to me if you are not going to work this for me I can find a ghetto lawyer and go international," Bridgewater told McDermott after telling him she had warned her client that what he was attempting to do wasn't right. "I don't like this at all. I told him this is wrong."
When asked where he came with $25 million, Bridgewater said that she didn't know. [Put in YOUR FREE ANNIVERSARY BP PHONECARD PIN:3903 0291 1072]
"That's a whole heap of money. John doesn't have that kind of bread  laying around," McDermott told her. "I'd have to go to every studio in Hollywood and say will you loan me a million bucks. We are willing to pay handsomely but nowhere near that."
Bridgewater said that Lightbourne was not willing to negotiate. After a few minutes of reviewing who had copies of the document and trying to come to an agreement, McDermott told her that his a** is on the line, not Travolta's. He said that he was upset about the whole thing and didn't even want to hear about it in the first place.
"I feel so badly about it," said Bridgewater. " My fear is that he could hire some other lawyer to do this for him."
As the tape was playing, Lightbourne kept biting his lips while Bridgewater kept blinking her eyes as if she couldn't see straight.
The real show began at 10:38 when the first of two video tapes were played. On the first tape, Bridgewater showed up to room 328 wearing a dark pants suit, scarf, hair pulled back in one and carrying a designer handbag.  McDermott and Bridgewater sat next  at a small circle table in the corner of the room, directly in front of a hidden camera as a loud air conditioner buzzed in the background.
"Man, this ain't getting easy," said McDermott. "This is freaking me out young lady."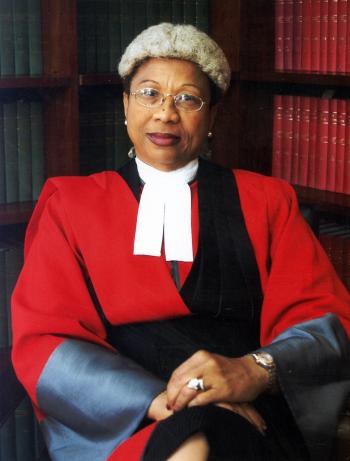 McDermott got so emotional at one point after going over the document, he threw it on his bed.
Bridgewater said that Ligthbourne was not interested in negotiating. When McDermott went to the bathroom, she sat cross legged at the table scribbling on a paper. When McDermott took his seat, she called Bridgewater from her cell. When everyone had their say, Lightbourne and McDermott got back into conversation about how they were going to come to an agreement. Bridgewater even admitted that she didn't like what was happening that she was prepared to take it to the police herself.
She said that she met Lightbourne at summer camp where his kids went and that the one thing she told her children was that a deal was a deal.
"I'd like to tell Tarino to break the deal or dance the wheel," said McDermott. " I want to look  him in the eyes and have him tell me to my face that he's not going to mention this to anybody. If I detect the slightest hesitation, I'm gone."
When Bridgewater called Lightbourne back, she relayed a message to McDermott that he had dropped the price to $20 million. "$20 million can't work." Bridgewater repeated. She also said that he wasn't interested in the million dollar Travolta property where Jett died. He said that Travolta might not be interested in coming back there after the tragedy. From the looks of things, Bridgewater was not able to persuade Lightbourne to consider the property.
"Oh sh**!"MM Cracks his knuckles and leans over highly upset. "If he wants to play we can play. If he wants to play hardball. You tell him million in property and cash… we have a saying – pigs get fed and hogs get slaughtered. He can be a pig and we can work with him."
Think this was a hot piece? Wait til you hear what Bahamas Press heard when Lightbourne met one on one with McDermott. Find out why he's a 'Bahamian Robin Hood' and what he wants to bury deeper than the Titanic. And yes folks, we've got Defense Attorney Murrio Ducille putting McDermott in the hot seat again and yes folks, another warning from Justice Anita Allen to both rowdy lawyers when cross examination began.
Your BP will be in Bank Lane 10AM SHARP!