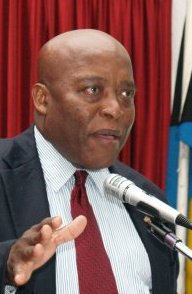 Oswald Brown Writes
By OSWALD T. BROWN
FREEPORT, Grand Bahama — I've just read Zhivargo Laing's vitriolic response to my repeated criticism of his performance as Minister of State for Finance and his poor representation of the residents of the Marco City constituency of Grand Bahama in the House of Assembly. One of the things that his response proved is that in addition to being a totally inept Minister of State for Finance, he also has difficulty with telling the truth.
At no time did I ever ask Laing to assist me in being appointed to an ambassadorial position abroad. This is an outright lie. I had easy access to the Prime Minister, personally and as a journalist, so why would I ask Mr. Laing to approach the Prime Minister on my behalf? I've concluded that he must have been referring something he was told by his boss, Hubert "THE DICTATOR" Ingraham.
Shortly after the FNM won the 2007, I did approach Mr. Ingraham about the possibility of being The Bahamas' ambassador to the United States. Given my background and experience, I considered this to be a reasonable request. I lived in Washington, D.C., for 20 years. During the first five years of my stay there, I was publications editor at the Institute for Services to Education (ISE), a think tank established by the late President Lynden Johnson to help upgrade the standard of education in historically Black colleges and universities. When Ronald Reagan was elected President in 1980, he drastically reduced funding for ISE and the publications division was disbanded. I subsequently was employed as news editor of The Washington Informer, where I remained for 12 years. As a working journalist in D.C., I covered some events on Capitol Hill and gained a good understanding of congressional proceedings, which in my way of thinking would have been very helpful to me if I had been appointed ambassador.
One of the main reasons, however, why I decided to pursue the ambassador's job in D.C. was because I have two marvelous grandchildren who live in the Washington, D.C., area and I thought it would be nice to spend a couple years with them nearby. Anyone with grandchildren can attest to the fact that they are a blessing to have around you, especially during your "senior" years.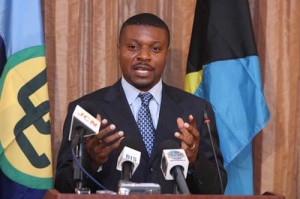 When I approached Ingraham about the ambassador's position, he told me that he would consider it. I asked him whether I should mention my interest in it to Foreign Minister Brent Symonette, but he told me that this would not be necessary because he would be the one who would eventually make the decision.
Some time went by, during which it was well known in Freeport that I was seeking the position and so was C.A. Smith. One day Mr. Smith called me at The Freeport News and informed me that he had been appointed ambassador to the United States. He even suggested that when I ran the story, I use the headline, "Mr. Smith Goes To Washington," which I did.
I placed several calls to Mr. Ingraham to confirm what I had been told, but my calls were not returned. I subsequently called Kay Forbes Smith, who was then head of the Prime Minister's Office in Freeport, and requested that she arrange for me to meet with Mr. Ingraham on his next visit to Freeport. She did and during my meeting with Mr. Ingraham, he told me that he could not have appointed me as ambassador to the United States because I was an American citizen.
It crossed my mind that this may not have been a valid reason, given the fact that Sidney Poitier was Bahamian ambassador to Japan for many years, and although he is recognized as being a Bahamian, he was actually born in Miami and is an American citizen. I became a naturalized American citizen in 1982, and I still consider this to be one of the best decisions that I made in my life. I love the United States, but this in no way has diminished my love for The Bahamas.
Nonetheless, I accepted Mr. Ingraham's explanation as to why I was not appointed ambassador to the United States, given the perception that if there was ever a conflict between the United States and The Bahamas, my loyalty to The Bahamas might be questioned, although if such a conflict were to develop, the decision on how it is handled would not be made by the ambassador but by the Foreign Affairs Minister.
Be that as it may, in my meeting with Mr. Ingraham, I told him that I would then be interested in the consul general's position in Atlanta, a position that does not involve dealing with "sensitive" diplomatic matters. He told me that he could not fill all of the foreign jobs with political appointments. Yet, when he did appoint a consul general for Atlanta, he appointed Kay Forbes Smith, who had to resign as an FNM senator to accept the appointment. I suppose if I wore a skirt I would have been more qualified for that position. It was at this point that I lost all respect for Ingraham; obviously his word means nothing and his often repeated declaration that he "means what he says and says what he means" is simply hogwash.
With regard to Mr. Laing's suggestion that my mind is "jaundiced" because I believe that he and the Prime Minister were responsible for me being fired from The Freeport News, the chain of events that led to me being "forced" to retire without a day's notice strongly suggest that they were. When Archdeacon Cornell Moss, rector of the Anglican Church of the Ascension, was installed as Bishop of Guyana in November of 2009, I wrote an editorial in The Freeport News criticizing the government for not sending someone to officially represent The Bahamas at that event.
When you consider that many of the parishioners of the Church of the Ascension are from constituencies represented by four FNM members of Parliament (Laing in Marco City, Neko Grant in Lucaya, Kwasi Thompson in Pineridge and Kenneth Russell in High Rock) I still think it is a disgrace that not one of these FNM MPs had the good sense to suggest to Mr. Ingraham that The Bahamas should have been officially represented at this historic event. In that editorial, I particularly mentioned that if Mr. Laing was not too busy globe hopping at the public's expense to financial conferences, some of which it was not necessary for him to attend, he would have found the time to inform Mr. Ingraham that The Bahamas should be represented at the installation of Bishop Moss in Guyana.
Several days later Mr. Laing called me and took issue with my criticism and asked whether I had something personal against him. I told him that I did not, but I did disagree with Prime Minister Ingraham's strong-arm tactics in trying to force Sir Jack Hayward to sell the Grand Bahama Port Authority to the Chinese. No doubt Laing could not wait to go and report this to Mr. Ingraham.
Several weeks later I wrote in my column, OSWALD BROWN WRITES, that the pending by-election in the Elizabeth constituency would be a referendum on Ingraham's leadership. My column generally appeared in both The Freeport News and The Nassau Guardian on Fridays, but The Guardian refused to publish it. That Friday afternoon, I received a call from Wanda Gomez, human resources director for The Guardian, which owns The Freeport News, that she and Sandra Knowles would be down on Monday morning to meet with me. I was not aware of the fact that Ms. Knowles had been appointed general manager of The Guardian several weeks earlier, but I knew that like Laing, she was a strong supporter of Ingraham's. In fact, someone once said that she would jump out of an airplane travelling at 40,000 feet without a parachute to please Ingraham and everyone who knows them both know why.
After some small talk, Sandra told me that the decision was made that it was time for me to retire, effective immediately. What really bothered me was not so much the unprofessional manner in which I was "forced" into retirement without a day's notice, but I had some existing medical problems and my medical insurance was stopped immediately. Freeport News and Guardian employees are insured by Colina Insurance, which is a member of the AF Holdings group of companies (the AF representing the last names of Manny Alexiou and Anthony Ferguson).
Since I know both of these gentlemen very well, I refuse to believe that they were actively involved in the conspiracy to force me to retire, but I strongly believe that Laing and Ms. Knowles along with several other devotees of Ingraham's, including a very close relative of mine, were involved. I have very reliable information that supports by suspicion.
Initially I was very bitter, but I would like to assure Mr. Laing that this is no longer the case. My Lord and Saviour Jesus Christ is in the driver's seat of my life and he has convinced me that it is unchristian to harbor bitterness in one's mind; therefore, I decided to leave whatever retribution is due to these evil individuals up to the Lord.
However, I would like to assure Mr. Laing that my criticism of him has nothing to do with my belief that he was involved in my forced retirement. I simply think that he is not qualified to hold down the important position of Minister of State for Finance, and this is one of the reasons why this country's economy is in such poor shape.