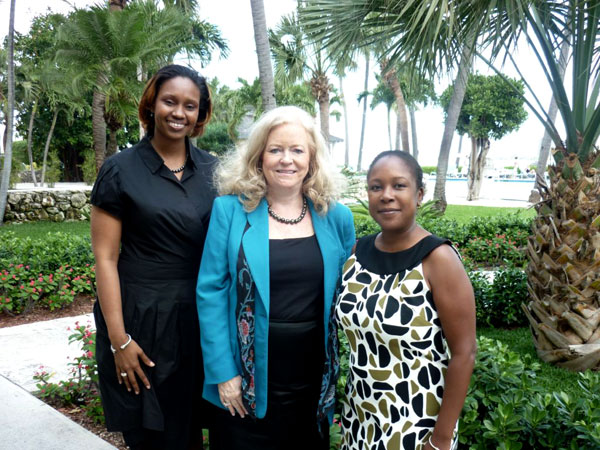 Nassau, The Bahamas – Instead of soaking up the sun, sand and sea on her recent trip to The Bahamas, Rich Dad, Poor Dad co-author¸ philanthropist, financial expert and entrepreneur Sharon Lechter put business before pleasure by paying a courtesy call to the United States Embassy along with Keshelle Kerr, the nation's only certified creative wealth coach and youth financial educator.
Ms. Kerr, who is also the organizer of Camp Millionaire and the Money Game plus founder of Girlfriends & Co women's network and T.E.E.N ( Teen Economic Empowerment Network) is currently hosting Mrs. Lechter who will be the keynote speaker at her upcoming Parents Financial Literacy Conference on April 30, 2011 at the Wyndham Nassau Resort in Cable Beach, Nassau, Bahamas.
"Mrs. Lechter, as many people know co-wrote Rich Dad, Poor Dad with Robert Kyosaki," said Ms. Kerr. "She is someone I have personally admired for years and commits herself to inspiring, encouraging and showing people ways to increase their wealth and I am thrilled that she has accepted the offer to come to this region to do something that I am also dedicated to."
Mr. Kyosaki who became an international sensation with the book they co-wrote once stated: "Sharon is one of the few natural entrepreneurs I have ever met. In The Rich Dad Company, I am the horn and Sharon is the engine."
Meanwhile, Mrs. Lechter's vast accolades include her being one of 19 persons including billionaire Charles R. Schwab to be named to George W. Bush's President's Council on Financial Literacy. They were responsible to shape the course for a financially literate USA by gathering information, recommending improvements to national policies to the President and Treasury secretary and assist Americans in understating and addressing financial matters.
Then President Bush said of Mrs. Lechter and her colleagues:   "We want people to want people to own assets; we want people to be able to manage their assets. We want people to understand basic financial concepts, and how credit cards work and how credit scores affect you, how you can benefit from a savings account or a bank account. That's what we want. And this group of citizens has taken the lead, and I thank them."
Public Affairs Officer of the United States Embassy (Bahamas), Erica Thiabud thanked Ms. Kerr for inviting Mrs. Lechter to the Bahamas to share her vast knowledge with the country. She also lauded their efforts in helping people understand that despite the economy, there is a way to still be successful.
During the visit to the Embassy, Mrs. Lechter expressed her passion for financial literacy and the necessity of educating people from all spheres of life. She added that both she and Ms. Kerr are ardent about encouraging people to become entrepreneurs and find ways to create more money so that they can live the lifestyle they want.
"[You] have to become innovative, and start making more money so that you can live the lifestyle that you want," she stated.  "This is not just living within our means, but expanding your means. There is nothing like the passion, because once you learn that you can create money, it's a skill for a lifetime."
For more information on the upcoming conference, visit www.creativewealth.com