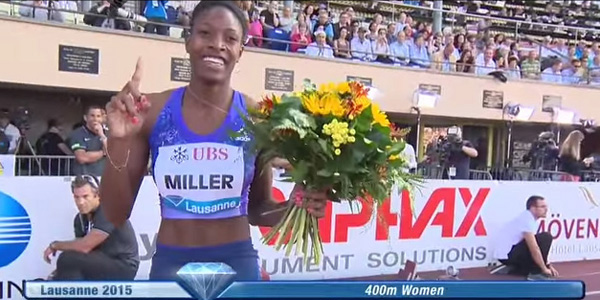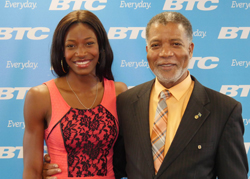 Bahamas' Shaunae Miller took gold in the 400m with another incredible performance on May 29th at the Prefontaine Classic held at Hayward Field in Eugene, Oregon.
Miller's time was 50.15 seconds, and behind her placing 2nd was American Francena McCorory with 50.23, and 3rd was American Natasha Hastings with 50.86 seconds.
Miller remains undefeated this year, and in April she ran her best 400m time of 49.70 at the Chris Brown Bahamas Invitational.
Miller has been a BTC Athlete since 2013. "Funding is a must to compete at the level I do," said Ms. Miller. "BTC helps my career by defraying costs and the exposure I am given throughout the Bahamas. When my photo is placed on the phone cards, the posters, the billboards and the commercials, it makes me proud to be a BTC athlete; it feels good to be associated with a winning brand. BTC is always in my corner and I am proud to say BTC keeps me connected to the World."
Miller heads back to Jamaica to train for her next race (a 200m), and she's definitely looking ready for the 2016 Olympic Games in Brazil this August!
"I love the competition," said Miller.
The rising star on the world stage is what BTC's commitment to youth and youth programmes across the Bahamas is all about.
The BTC brand is committed to youth and cultural developments across the country and stands committed to building stronger communities across the Bahamas.