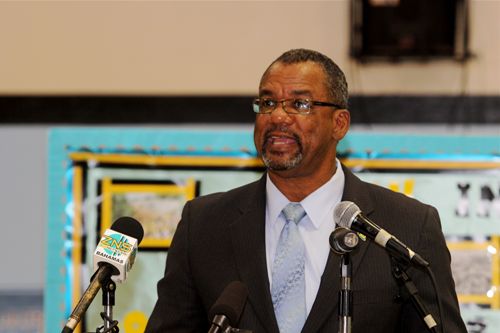 Nassau, The Bahamas – Students, teachers and administrators of C. I. Gibson Senior High School joined public and private schools throughout The Bahamas as they observed Majority Rule Day with a special assembly January 9. The Bahamas celebrates the 47th Anniversary of Majority Ruleon January 10.
The assembly was led by students of grade 12C and music was provided by the school's choir. Herbert Oembler, principal, read a message for schools from Governor-General Sir Arthur Foulkes in honour of Majority Rule Day.
Minister of Education, Science and Technology Jerome Fitzgerald told the assembly that he is proud of the efforts teachers are making to highlight Majority Rule Day. He encouraged the students to reflect on how they can show gratitude to the men and women who made the day possible.
"You heard the words of Sir Lynden Pindling highlighted in the Governor General's message, "… Freedom does have a price. It is not free. Freedom means responsibility, a responsibility to properly look after our families and ourselves," said Minister Fitzgerald. Majority Rule Day also teaches that hard work leads to freedom. "Our forefathers did not struggle so that students today can value life less, but achieve their fullest potential."
He wished the students success in their studies in 2014 and encouraged them to apply themselves to their education and uphold the legacy of the men and women who fought to make Majority Rule a reality.
The Bahamas will observe Majority Rule Day as an official Bahamian holiday for the first time on January 10, 2014. According to a programme issued at the special assembly, Majority Rule is, "A celebration and recognition of the brave men and women, both black and white who brought a positive change within our country and enabled persons like us to have access to the best education possible.
When Majority Rule was won the people praised God because they had broken the chains and formed a new government."