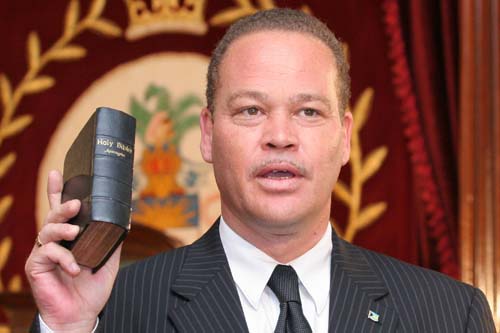 <<< Carl 'UNDERNOURISHED' BETHEL finally FIRED!!!!!!
Nassau, Bahamas — A 'bloodbath' is now underway at the FNM Convention. The knight of the long knives is back. It is no question your Bahamas Press is convention ground ZERO this fall! Breaking News now coming to BP confirms Carl 'UNDERNOURISHED' Bethel has been finally fired as as a member of the Mugabe Cabinet. We also have breaking news, which confirms Johnlee Ferguson has ran into the bathrooms at the Wyndham Nassau Resort to relieve himself following shocking upset now underway on the floor of the FNM Convention.
Nominations for Party office today saw Carl 'Undernourished' Bethel elected as Chairman unopposed of the FNM. His nomination was moved by the dictator MUGABE himself!
We've also learned that both Johnlee and Ivoine Ingraham were given clear instructions by Mugabe to withdraw or ELSE THEY WILL BE CRUSHED!
Bahamas Press has learned from sources deep in the belly of the Party Prime Minister MUGABE Ingraham had asked the FAILING GRADE Minister of Eduction to take up the post of Chairman last month, as he has been the worse minister of Education in the last 35 years.
Readers would remember the Andre Birbal the pedophile who raped more than 20 boys at the Eight Mile Rock High School. The matter was bought to the public front and centre first by a reporter in Grand Bahama [Vanessa Clarke] and later exploded by this website. And we never rest from the subject. Where is Birbal now?
FNMs are disgusted by the performance of Ferguson who appears to have represented the FNM in a drunken stupor. He we understand is yet to exit the lavatories at Convention centre. Two meritorious members caring the TORCH has been sent to locate the outgoing Chairman. BP will deliver live blow by bow accounts all evening from the FNM convention….We invite our 155,000 strong Daily reader to join us and provide instant coverage and analysis.