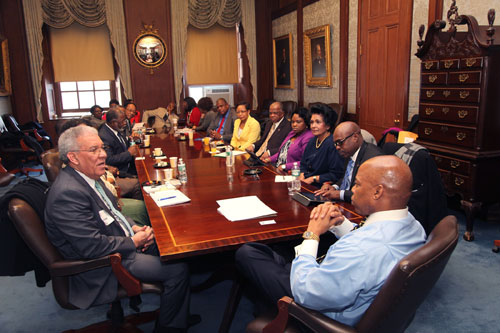 By Oswald Brown
NEW YORK — In his capacity as Chairman of the CARICOM Consular Corps, the Hon. Forrester J. Carroll, Bahamas Consul General to New York, led a delegation of Consuls General who are members of the CARICOM Consular Corps on a courtesy and fact-finding call to the offices of Mr. Erik Adams, newly elected President of the Brooklyn Borough, on Tuesday, February 11, 2014.
The visit was mutually agreed to for the purpose of discussing ways and means of finding common ground in solving the many issues affecting the Caribbean diaspora within the jurisdiction.
President Adams was forthcoming in response to the Corps' concerns and promised the full corporation of himself, his office and staff in forging a better relationship with the CARICOM Consular Corps and the Caribbean diaspora.
Chairman Carroll noted that the meeting was timely, but overdue. He thanked President Adams for his kindness and willingness to meet with the Consular Corps in the forum in which he did. While thanking the President and his staff on behalf of the CARICOM Consular Corps, Consul General Carroll pledged the full support of the Corps and its member consulates, both individually and collectively.
Borough President Adams has spent the last 30 years serving the city he grew up in and in improving and protecting the lives of New Yorkers as a police officer, legislator and builder of successful coalitions. As Brooklyn Borough President, he utilizes his "diverse experience to ensure a bright future for his beloved Brooklyn," according to background information on his website.
"Born in Brooklyn, raised in New York and educated in the city's public schools, Eric knows this city works best when all voices are heard and groups work together to find common goals," the website notes. "As a young officer in the NYC Transit Police Department and then NYPD, Eric was responsible for solving real world problems and making life-and-death decisions under the most difficult conditions. He must have been good at it. Eric was promoted to Captain. As a member of the police force he also found time to address local issues, co-founding 100 Blacks in Law Enforcement Who Care to improve the department's community relations and raise funds for worthy neighborhood causes."
Borough President Adams received his Master's Degree in Public Administration from Marist College and is a graduate of New York City Technical College and John Jay College of Criminal Justice.  He was re-elected to a fourth Senate term in November 2012, and was elected to serve as Brooklyn Borough President in November 2013.