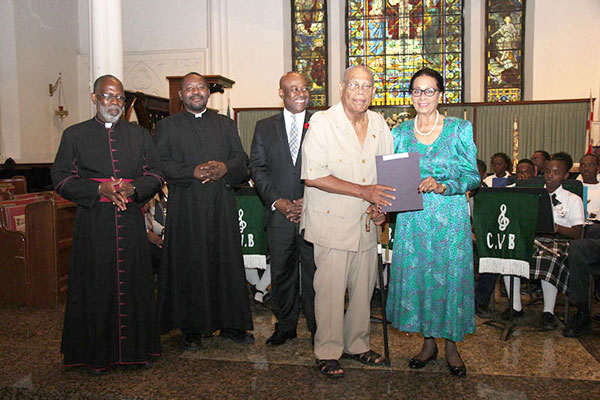 NASSAU, The Bahamas – An Awards Ceremony to honour historic residents and businesses in the City of Nassau, as part of the Celebration of the Establishment of the City of Nassau, was held on Wednesday evening, November 4, 2015 at Christ Church Cathedral.
Her Excellency Dame Marguerite Pindling, Governor General, attended and presented award certificates to those residents and businesses. Minister of Tourism the Hon. Obie Wilchcombe attended and greeted the honourees.
Awarded were: Sean Albert for Scotiabank; Virginia Baker, A. Baker & Sons; Nathaniel Beneby, Royal Bank of Canada; Suzanne Black, Black's Candy Kitchen; the Hon. J. Henry and the Hon. Janet Bostwick for Bostwick & Bostwick Law Chambers; Eunice Albertha Brown for the Straw Market; Rui Domingues, the British Colonial Hilton; Dr. Andrew Esfakis for Medicine; Dr. Michael Gerassimos for Medicine; Roosevelt Godet, Godet's Jewellery; Fred Hazlewood, the John Bull Group; Trevor Kelly for Kelly's Group; Irene Klonaris Govan for Poppies; Charles Klonaris, Mike's Shoe Store; Henry Lee, New Oriental Laundry; Texas Lunn for Lunn's Watch Repair; Andrea Major, the Bahamas Historical Society; Mortimer, the Family for Candy Manufacturing; Hans Neven, Burn's House Group; Artie Nottage, Barry's; Isabella Overend, the Towne Hotel; Cally Papageorge for Prince George Plaza; Nadia Raspa-Silvani, British Airways; Everette Sands, Butler & Sands; W. Bro. Darnley Sealey, Royal Victoria Lodge No. 443; George Skandaliaris, Café Skans; Marsha Stewart, Coin of the Realm; Theo Tsavoussis, The Young Miss Bridal Shop; Patrice Wells, Cole Thompson Pharmacy; Heather White, The Linen Shop; Della Wilson, the Straw Market; Betty Wong, Sue Nan Shoppe.
The ceremony featured Welcome and Description of the Mission and Work of the Christ Church Cathedral Endowment Trust by His Excellency Lowell Mortimer, Chairman of the Endowment Trust of the Cathedral; Conception of 'Cathedral Week' by Nicodemus Johnson, Trustee; Invocation and Benediction by the Very Reverend Patrick L. Adderley, Dean of Nassau, Rector of Christ Church Cathedral; musical selections; and a Reception in the Square.