Missing $25,000 from Grand Bahama Passport Office still being investigated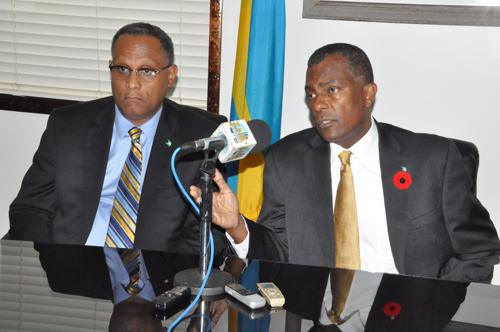 FREEPORT, Grand Bahama – Investigations are continuing into the missing $25,000 from the Passport Office here, said Minister of Foreign Affairs and Immigration, the Hon. Fred Mitchell during a press briefing at the Ministry for Grand Bahama on Friday.
Stating that the he wanted to put a "human face" to the statement issued from his office in Nassau on Thursday, the Minister added that the matter was discovered some months ago when approximately $25,000 appeared to be missing from the Passport Office in Freeport.
It was discovered missing when bank deposits appeared "unusual" and following this, the Ministry took the necessary action to discover if the funds were in fact missing. "My advice was that the Department of Public Service who's responsible ultimately for discipline within the service was called in — the Ministry of Finance because the employee is actually an employee of the Ministry of Finance, and that the matter should have been reported to the police."
The steps, said Minister Mitchell, have been taken and it is understood the employee has admitted taking the funds.
"The disciplinary action continues with regard to it and the necessary steps will be taken by the Ministry of Finance and the government agencies to ensure there is an appropriate investigation of the action which is deemed fit in these circumstances."
He said, the Department is taking the matter seriously and the person was "interdicted immediately" and a "show cause letter for dismissal has also been issued."
The Minister added, "this was not a joke. One of the reasons I'm trying to flesh this out is because I don't want the public to get the impression that the Auditor General descended on the Passport Office because he heard something. The fact is, we discovered it and we asked the Auditor General to come in because it's their role to confirm what the Government's accounts are. And, this is an old story."
The rules were followed, and so when tabled in the House of Assembly, it became public knowledge.
The Minister added that there was a comprehensive meeting with all of the staff to go over the rules and regulations, and he would like to go to a cashless system — this is something that is being looked into.
Addressing the backlog of passport renewals and the issuing of new documents, Minister Mitchell said the Passport Office is now headed by former Freeport Office chief, Superintendant Clarence Russell, who is beginning a reform effort to increase staff so as to deal with the issue.
With the deadline at the end of the month where people will no longer be able to use handwritten passports, people who do not have electronic passports are rushing to get one. Some are being asked to provide affidavits even though they have had passports before.
This may be due to a minor spelling error that differs on the birth certificate and the passport or application. This affidavit will simply confirms that they are the same person. "People get very annoyed at this but I'm just asking people to comply with the request and it makes it easier to deal with."